Axel Lennart Wenner-Gren (5 June 1881 - 24 November 1961) was a Swedish entrepreneur and one of the wealthiest men in the world during the 1930s.
Wenner-Gren also diversified his interests into the ownership of newspapers, banks and arms manufacturers, and acquired many of the holdings of the disgraced safety-match tycoon Ivar Kreuger. In Mexico in the 1930s, he was in economic alliance with Maximino Ávila Camacho, strongman of the Mexican state of Puebla, whose brother Manuel Ávila Camacho became President of Mexico in 1940.
World War II blacklisting
Wenner-Gren was reported to be a friend of Hermann Göring, whose first wife was a Swede, and in the late 1930s convinced himself that he could avert the coming world war by acting as a conduit between Göring and the British and American governments. His efforts proved unsuccessful, with all parties regarding him as a self-promoting nuisance without much influence on the plans of the Nazi regime. However, others are suspicious of his role in the war, citing how (his) original Bank of the Bahamas was used to fund the Nazis and his friendship with Göring as potential proof of his private support for the Nazis.
A disconsolate Wenner-Gren retired to his estate in The Bahamas where he resumed his friendship with the islands' governor, the Duke of Windsor and former King of the United Kingdom Edward VIII. Early in the war his rumored friendship with Göring and the suspected German sympathies of the Duke led first the Americans and, following their lead, the British, to place him on an economic blacklist, enabling them to freeze his assets in Nassau. There proved to be little or no foundation to their suspicions that Wenner-Gren was a Nazi agent, notwithstanding the appearance of his steam yacht Southern Cross (the world's largest at the time) along with ships from the Allied Navies at the site of the sinking of the liner SS Athenia on the first day of the war. 
CONTINUED AT LINK:
"The Life of Axel Wenner-Gren–An Introduction"

Captain Carl Johan Anderssen. Rescued 449 survivors from the British passenger ship Athenia on Sept. 3-1939, torpedoed northwest of Ireland by U-30 (Lemp). More could have been saved had it not been for an accident with one of Athenia's lifeboats, which in the dark came in contact with Knute Nelson's propeller and capsized. In the boat were 52 female passengers and 3 seamen, only 8 survived. Other ships to come to the aid of the survivors were the American City of Flint, the Swedish yacht Southern Cross, and the British destroyers HMS Electra and HMS Escort. My father was on board the Nidarland at that time, and mentions in one of his letters (Odd's letters - No. 4) that they too went to assist (I have not seen this mentioned anywhere else).
Knute Nelson was within German controlled waters at the time of the invasion of Norway and ended up under German control. Reported on July 5-1943 in Germany-Norway coal trade.
http://www.warsailors.com/homefleetsingles/knutenelson.html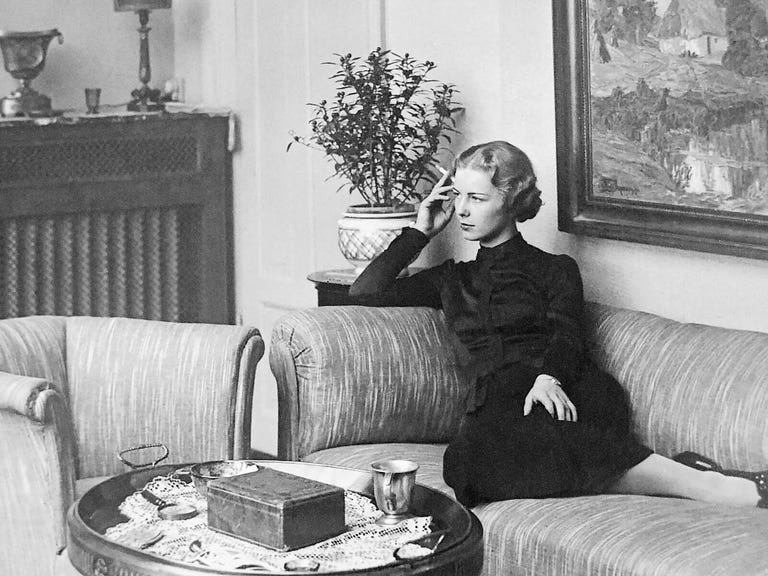 Arvad and Kennedy fell madly in love at the outset of World War II. Kennedy's nickname for her was Inga-Binga. His family, the FBI, and the Office of Naval Intelligence conspired to thwart their relationship.
Danish beauty Inga Arvad was a scoop-driven journalist courted by royalty, the Nazis, and a young John F. Kennedy—before finding peace in the West. An unlikely tale of reinvention, redemption, and enduring love.
John F. Kennedy, as a navy lieutenant junior grade, during the time of his romance with Inga Arvad.
"Knowing you has been the brightest part of an extremely bright twenty six years."
—Jack
"I love him more than anything."
—Inga
WWII Secrets: The Mysterious Inga Arvad
An enigmatic beauty, Inga Arvad may have worked for the Nazis and involved a future U.S. president in a web of intrigue.
A Prince in Hot Water: The Duke of Windsor and the Murder of Sir Harry Oakes
In 1940 Winston Churchill arranged for the Duke of Windsor to be shipped off as Governor of the Bahamas where, with his well-known Nazi sympathies, For, on 'a dark and stormy night', in early July, 1943, the Bahamas' richest and most powerful citizen, Sir Harry Oakes, was brutally murdered, and the Duke of Windsor would be implicated in an attempt to pervert the course of justice and frame an innocent man for the crime.
Howard Hughes Howard Hughes' Yacht The Southern Cross Archive of Typed Letters Signed, handwritten telegrams, and other related items, 22 pieces in all.
Not content to only own airplanes, Howard Hughes purchased, in the early 1930s, a huge yacht of 425feet and named it The Southern Cross. It is known that Katharine Hepburn painted her first picture while cruising through the Bahamas with Hughes on this yacht in 1937. Carl B. Flynn was the captain of the ship and he accumulated this vast archive of interesting material. Included are approximately 19 telegrams, some in manuscript, as well as two Typed Letters Signed "Howard"by Hughes and an extremely detailed letter giving communications instructions to Flynn. The first letter is dated December 23, 1933 to Flynn and reads (in part): "I don't want you to waste any money in the operation and maintenance of the boat. I don't want you to let anyone overcharge you for any work or material. However, regardless of what it costs, I want you to do everything that is necessary or adviseable [sic] to insure that there is no deterioration of the boat, outside or inside. I expect this boat to last a lifetime, and saving a few dollars now at the expense of allowing the boat to deteriorate may cost more in the long run. I think it is cheaper to keep a boat in first class condition than to let it go to hell and then try to repair it."Hughes didn't keep it a lifetime- he sold it within six years of writing this letter. The most interesting of the items in this archive are the three pages of special instructions to Flynn and his assistant, showing more than just a hint of paranoia on Hughes' part. We'll mention a few: "All correspondence must be sent thru Cox and Stevens. Never Direct", "Never mention H.R.H's name", "Never mention the Boats name", "Pay cash", "When telegraph operator or clerk asks name, give name 'Jones' or none", "Sign all wires: 'C'", "Never phone from a placewhere anyone could overhear you", "Never use a phone that goes through a switchboard". Well, you get the picture. A fabulous archive of material and a rare opportunity for the collector. All items are in fine condition.
Prince George, Duke of Kent, KG, KT, GCMG, GCVO (George Edward Alexander Edmund; 20 December 1902 – 25 August 1942) was a member of the British royal family, the fourth son of King George V and Queen Mary. He was the younger brother of Edward VIII and George VI.
He was killed in a military air-crash on 25 August 1942.
CONTINUED AT LINK:
The Dunbeath air crash involved the loss of a Mark 3 Short S.25 Sunderland that crashed in the Scottish Highlands on a headland known as Eagle's Rock (Creag na h-Iolaire) near Dunbeath, Caithness, on 25 August 1942. The crash killed 14 of 15 passengers and crew, including Prince George, Duke of Kent, who was on duty as an Air Commodore in the Royal Air Force on a mission to Reykjavik. .
Lynn Picknett and Clive Prince have written about the crash in their book Double Standards, which however has been criticised for its "implausible inaccuracy". They alleged that Kent had a briefcase full of 100-krona notes, worthless in Iceland, handcuffed to his wrist, leading to speculation the flight was a military mission to Sweden, the only place where krona notes were of value.One RAF crew member survived the crash: Flight Sergeant Andrew Jack, the Sunderland's rear gunner. Flight Sergeant Jack's niece has claimed that Jack told his brother that the Duke had been at the controls of the plane; that Jack had dragged him from the pilot's seat after the crash; and that there was an additional person on board the plane whose identity has never been revealed.

It is alleged the plane was carrying Rudolf Hess. He was being taken to Sweden to make peace between Germany and Britain allowing the German's to fight on one front.