Restoration of our July 9, 2009 episode
The G8 meet in Italy to finalize Hitler's Europe, fascism raises it evil head even touting the final solution for gypsies, mysterious London fire has 911 links, Paris Hilton's British Best Friend's death, Michael Jackson's ghost video another diversion of the NWO, the Pope bares his teeth, 7/7 terror recap, Obama's surveillance plan, we're all prisoners on Conspiracy Cafe - the world is too much.

Reported Jackson Autopsy -- A Fake
Neverland Ranch Investigators Discover Corpse Of Real Michael Jackson 2005 Satire
The Slow Murder of Michael Jackson
Cheney Is Linked to Concealment of C.I.A. Project
Big Brother is Watching You: Pervasive Surveillance Under Obama
The DHS-NSA-AT&T "Cybersecurity" Partnership
Israeli sub sails Suez, signaling reach to Iran
WEAPONS inspector David Kelly was writing a book exposing highly damaging government secrets before his ­mysterious death.
If you go down to the woods today
You're sure of a big surprise.
If you go down to the woods today
You'd better go in disguise!
Funding totaling $11.5 million obtained for Minot AFB facilities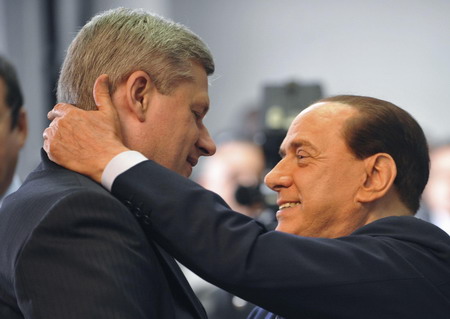 2009 G8 Comments:
Fluff for the masses. These fools are going to attempt to do what has never been done before. Although the greats have tried and held for short periods of time, they will join the list of despot failures. Charlemagne, Napoleon, Hitler, Stalin, Khan, Caesar they all failed. Their seditious attempt to create a new order whereby the elite rich rule by decree at the expense of the poor is the news. The mainstream media spread fluff to allow them to achieve their aims. Even the pope is calling for the new global order which is nothing more than the restoration of Rome where his title of Pontificus Maximus sat below Caesar. All hail, Stephen Harper was late for his photo while civilization as we knew it was sacrificed on the altar of the New World Order.
Patent for first method to create human sperm, but does it work?
https://www.newscientist.com/article/dn28185-patent-for-first-method-to-create-human-sperm-but-does-it-work/

\
Milk Hill, Nr Stanton St Bernard, Wiltshire -- July 2, 2009
http://www.crystalinks.com/hummingbird.html
Germ Warfare Against America: Part IVa – The U.S. Government Cover-Up Of The Gulf War Plague
Fire victim pleaded to be rescued
Cops say flats fire 'suspicious'
The towering inferno: how a block of flats became a tomb
Over the next 40 to 50 minutes, Dayana and Helen Udoaka fought an increasingly desperate battle to keep calm in their bathroom sanctuary while, next door, the fire destroyed the home of Catherine Hickman, a 31-year-old clothing designer who had escaped the 9/11 attacks in 2001 when a fashion show she had been due to take part in on that day inside the World Trade Centre was cancelled.
Catherine Hickman killed in Camberwell blaze
Most recently she was working at an exclusive boutique in Notting Hill, whose client list includes fashion icons Kylie Minogue, Paris Hilton and Claudia Schiffer.

Did Paris Hilton's BBF kill herself?
Whitehall lines up 'doomsday' cutbacks
The trains didn't run. Is that important?
Conspiracy fever: As rumours swell that the government staged 7/7, victims' relatives call for a proper inquiry
Two Centuries On, a Cryptologist Cracks a Presidential Code
Forgotten victims of Hungary's Roma murders

From profits to ethics: pope calls for a new political and financial world order
Euro-court outlaws criticism of EU