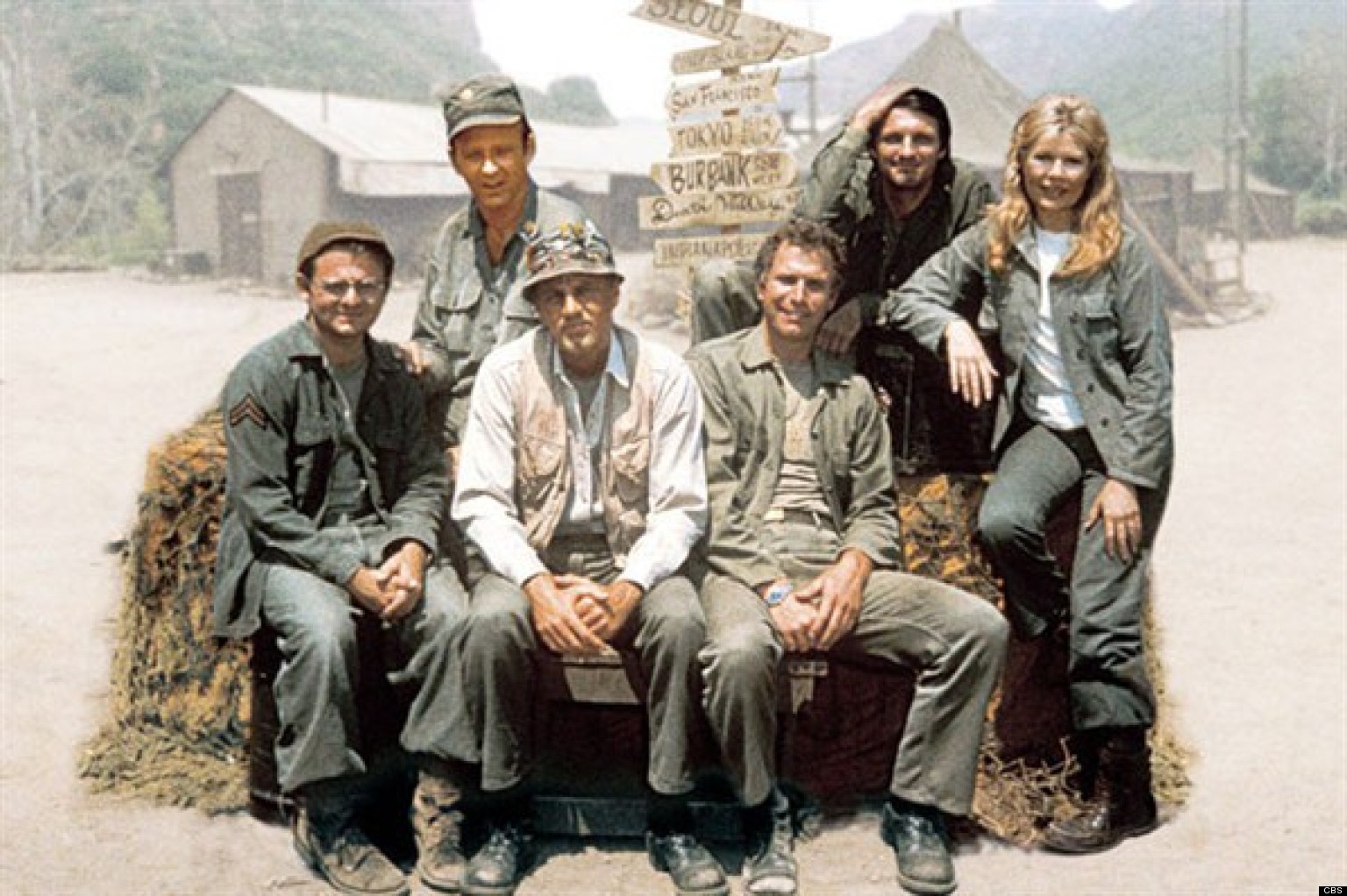 M*A*S*H is an American television series developed by Larry Gelbart, adapted from the 1970 feature film MASH (which was itself based on the 1968 novel MASH: A Novel About Three Army Doctors, by Richard Hooker). The series, which was produced in association with 20th CenturyFox Television for CBS, follows a team of doctors and support staff stationed at the "4077th Mobile Army Surgical Hospital" in Uijeongbu, South Korea during the Korean War. The show's title sequence features an instrumental version of "Suicide Is Painless", the theme song from the original film. The show was created after an attempt to film the original book's sequel, M*A*S*H Goes to Maine, failed. The T.V show version of MASH is the most well known version of the M*A*S*H works, and one of the highest rated shows in U.S. television history.
The series premiered in the U.S. on September 17, 1972, and ended February 28, 1983, with the finale, "Goodbye, Farewell and Amen", becoming the most watched television episode in U.S. television history at the time, with a record-breaking 125 million viewers (60.2 Rating and 77 Share), according to the New York Times. It had struggled in its first season and was at risk of being cancelled. Season two of M*A*S*H placed it in a better time slot (airing after the popular All in the Family); the show became one of the top ten programs of the year and stayed in the top twenty programs for the rest of its eleven-season run. It is still broadcast in syndication on various television stations. The series, which depicted a three-year military conflict, spanned 256 episodes and lasted eleven seasons.
"Requiem for a Lightweight" is the third episode of the television series M*A*S*H. It was first aired on October 1, 1972 and was repeated on December 31, 1972, the first episode of M*A*S*H to do so. In Watching M*A*S*H, Watching America, a sociological examination of M*A*S*H as an illustration of shifting American values in the 1970s and early 1980s, James H. Wittebols cites this episode as an example of the sexual humor which was common in early M*A*S*H episodes, but downplayed later in the program's history.
A new nurse named Margie Cutler arrives at the 4077. Realizing Cutler is an incredible distraction for Pierce and McIntyre, Major Houlihan has her transferred to another unit. Hawkeye and Trapper, desperate to get her back, agree to have Trapper fight in a boxing tournament. To secure victory, Ugly John shows Hawkeye and Trapper how to coat one of the boxing gloves in ether, but Burns and Houlihan, looking to foul them up, swap the ether for water. Hawkeye, realizing what they did, quickly gets more ether, coats Trapper's glove, allowing him to "knock out" his opponent.
This episode's title is a parody of Requiem for a Heavyweight, a 1956 episode of Playhouse 90 starring Jack Palance as a washed up professional boxer. Requiem for a Heavyweight was made into a theatrical film starring Anthony Quinn in 1962.
Plot
After meeting new nurse Margie Cutler together, Hawkeye and Trapper each are determined to become her lover. While they are all discussing surgical procedures in the mess tent Major Houlihan tells Cutler she needs to see her. After they leave, Hawkeye and Trapper both try to let on that they're going back to sleep or work. However, they both go to Cutler's tent and find her packing her things; Houlihan had her transferred to another unit because she was a distraction.