Combat! is an American television drama series that originally aired on ABC from 1962 until 1967. The exclamation point in Combat! was depicted on-screen as a stylized bayonet. The show covered the grim lives of a squad of American soldiers fighting the Germans in France during World War II. The first-season episode "A Day In June" shows D-Day as a flashback, hence the action occurs during and after June 1944. The program starred Rick Jason as platoon leader Second Lieutenant Gil Hanley and Vic Morrow as Sergeant "Chip" Saunders. Similar to how the main cast alternated episodes in the series Laramie, Jason and Morrow would play the lead in alternating episodes in Combat!.
Combat! premiered on ABC on October 2, 1962, and was broadcast for five seasons to become TV's longest-running World War II drama. In total Combat! aired 152 hour-long episodes. The first 127 episodes, spanning four seasons, were produced in black and white. The fifth and final season produced 25 color episodes. The show was developed by Robert Pirosh, who wrote the pilot episode.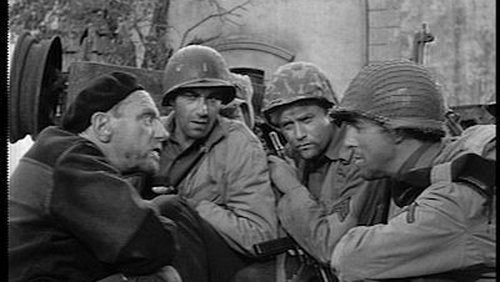 Missing in Action S1, Ep6 13 Nov. 1962
The French Resistance helps Lt. Hanley find a downed American Col. living with a beautiful woman, but leaks are getting their people killed.