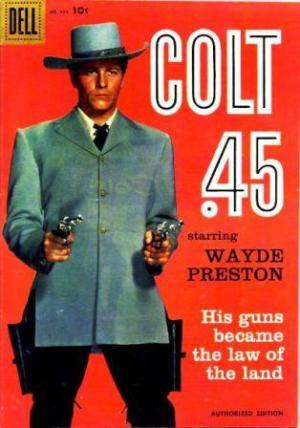 Colt .45 (also known as The Colt Cousins) is an American Western series which aired on ABC between October 1957 and September 1960.
The half-hour program is loosely based on the 1950 Warner Bros. film of the same name, starring Randolph Scott. Colt .45 was part of the William T. Orr-produced array of westerns which Warner produced for ABC in the late 1950s and early 1960s.
A more real Calamity
Roy Huggins developed the series with Wayde Preston in the part of undercover government agent Christopher Colt, who takes the cover of a traveling Old West pistol salesman, hence the title of the series. Colt .45 also featured fictionalizations of actual historical characters including Edwin Booth (brother of John Wilkes Booth, the assassin of U.S. President Abraham Lincoln), Sam Bass, Billy the Kid, Lew Wallace, Judge Roy Bean, Buffalo Bill Cody, Ned Buntline, and Calamity Jane.
During this period of time, Colt .45 was one of several ABC/WB western productions, along with Cheyenne, Sugarfoot, Lawman, Maverick and Bronco. Various series leads occasionally did crossover episodes on some of the other WB programs. One of the most imaginative was the "Hadley's Hunters" episode of Maverick, in which Bart Maverick (Jack Kelly) comes upon Christopher Colt's sales satchel, abandoned in a room and covered with dust since the series had been cancelled the previous season.
In 1958, series star Wayde Preston left the series because he claimed he was made to do stunts that required a stunt man. Preston was also reportedly unhappy with the show's low budget which caused other problems. Because of Preston's departure, producers were forced to air repeats of the series along with a few new episodes to complete the 1958-1959 season.
In 1959, Donald May assumed the lead role as Sam Colt, Jr., the cousin of Christopher Colt. After leaving the series, Warner Bros. prevented Preston from obtaining other acting jobs. He eventually returned briefly to the series but was demoted to a co-starring role with May.
Calamity Season 3 | Episode 10
Episode aired 13 December 1959
Colt escorts a woman doctor and smallpox vaccine to Deadwood during an Indian uprising.
How appropriate for today. Vaccine propaganda in a timely classic. 
The Colt Single Action Army, also known as the Single Action Army, SAA, Model P, Peacemaker, M1873, and Colt .45 is a single-action revolver with a revolving cylinder holding six metallic cartridges. It was designed for the U.S. government service revolver trials of 1872 by Colt's Patent Firearms Manufacturing Company — today's Colt's Manufacturing Company — and was adopted as the standard military service revolver until 1892.
The Colt SAA has been offered in over 30 different calibers and various barrel lengths. Its overall appearance has remained consistent since 1873. Colt has discontinued its production twice, but brought it back due to popular demand. The revolver was popular with ranchers, lawmen, and outlaws alike, but as of the early 21st century, models are mostly bought by collectors and re-enactors. Its design has influenced the production of numerous other models from other companies.
The Colt SAA "Peacemaker" revolver is a famous piece of Americana known as "The Gun That Won the West". The original length of the barrel, issued to the U.S. Cavalry, was 7-1/2 inches (with an overall length of 13 inches).