https://ok.ru/video/1842420583165

The Invaders is an American science fiction television program created by Larry Cohen that aired on ABC for two seasons, from January 10, 1967 to March 26, 1968. Dominic Frontiere, who had provided scores for Twelve O'Clock High and The Outer Limits, provided scores for The Invaders as well.
The series was a Quinn Martin Production (Season One was produced in association with the ABC Television Network - or as it was listed in the end credits, "The American Broadcasting Company Television Network").
10 "Summit Meeting, Part 2" November 7, 1967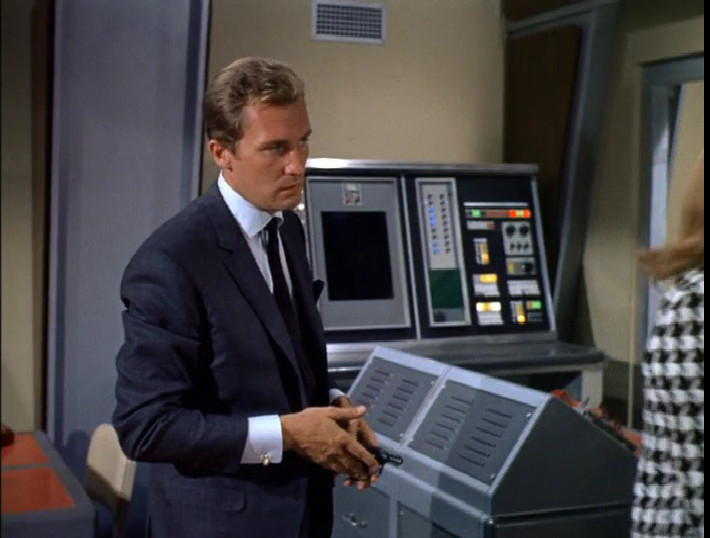 As the summit commences in a Baltic state from where the 'AR5' will be launched aboard a missile, David Vincent and Michael Tressider (William Windom) arrive and catch up with Ellie (Diana Hyland) but she warns Vincent that they may be under surveillance and arranges to meet Vincent later in her room. They are in fact being shadowed by an alien who reports on their initial meeting. When Tressider and Vincent are granted an audience with Halvorsen, they are shocked to learn that Halvorsen already knows that Alquist (Michael Rennie) is an alien and is well aware of the Invaders' presence on Earth. Alquist confidently reaffirms his position with Halvorsen, but Vincent accuses the unflappable Alquist of being a murderer, something that Halvorsen finds absurd, as Halvorsen only sees Alquist as the savior from the global radiation. Ellie tells Vincent about a file held by Alquist, which details his murderous plans, but when Vincent enters the room of Alquist's 'aides' he doesn't find any file and has to kill one of the alien assistants in order to escape. Tressider meets with the military chief but has no success with convincing him as to the aliens' plans. Meanwhile Alquist is holding a press conference regarding the antidote 'AR5' during which Vincent grabs a briefcase belong to Alquist.
The countdown starts for the launch of a missile that will disseminate the 'AR5'. Vincent and Tressider examine the diabolical details and feel that they can now convince Halvorsen that the whole alien plan is a fake. Alquist sends his aides to retrieve the briefcase, desperate that Vincent will get to Halvorsen. When an Alquist aide traps Tressider, Vincent and Ellie, he is killed by Ellie (alien kills alien). As Tressider splits up from Vincent and tries to seek Halvorsen, another of the aliens badly injures Tressider, and that alien is in turn killed by Vincent. The countdown still continues and Vincent, after much effort, finally gets through to the military chief who brings Halvorsen to meet with Vincent and Ellie in a corridor. Alquist arrives on the scene but is so desperate in his actions and denials that Halvorsen is convinced to stop the launch. However, when Alquist refuses to cooperate in order to stop the launch, Vincent pulls a weapon and takes Halvorsen and Ellie away from the corridor and into a stairwell. From there Vincent, Ellie and Halvorsen are pursued to the launch site in jeeps by Alquist and his closest aide. On entering the launch site, Vincent kills Alquist and his aide, but Halvorsen is already too late to stop the launch. However, he sacrifices himself in order to remain and to destroy the missile as Vincent and Ellie escape. As the summit ends in confusion, Ellie and Vincent split up and Ellie reassures Vincent that the radiation will no longer be a threat as The Invaders can't live in a highly radioactive environment either.
The episode features a symbolic NATO where the aliens have direct control thrugh various world leaders. It is called EURAC.
There is a real organization by that name today. 
The aliens were intent on having us disarm. Back in the 60's the president who was assassinated desired the same thing. His State Department wrote a document called Freedom From War. All countrie would surrender their weapons to the United Nations. They would maintain the peace and we could all be content as vassal states. That was probably another facet for the Kennedy assassination. It would have looked like surrender and treason. The aliens wanted to kill the world leaders. Perhaps the military industrial complex beat them to it. 
JFK and Gen. Curtis LeMay. 
The world was to be polluted with radiation to eliminate the people. We include details in the first episode commentary. The Bible code said the aliens were of Satan. I cannot deny that either. A great majority of ethereal space media devote a lot of time to aliens. Hopefully they are not of Satan despite the fact the broadcast realm is.