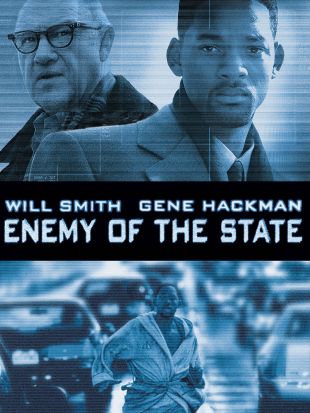 ALTERNATE LINK:
https://ok.ru/video/2852759472697

https://thevideobee.to/cpg2djb0fn1j.html

https://archive.org/details/ENEMYOFTHESTATE_201707

Enemy of the State is a 1998 American spy-thriller about a group of rogue NSA agents who kill a US Congressman and try to cover up the murder. It was written by David Marconi, directed by Tony Scott, and produced by Jerry Bruckheimer. It stars Will Smith and Gene Hackman, with Jon Voight, Lisa Bonet, and Regina King in supporting roles.
As the U.S. Congress moves to pass new legislation that dramatically expands the surveillance powers of intelligence agencies, Congressman Phil Hammersley (Robards) remains firmly opposed to its passage. To ensure the bill's passage, National Security Agency official Thomas Reynolds (Voight) kills Hammersley, but he is unaware of a video camera set up by wildlife researcher Daniel Zavitz (Lee) that has captured the entire incident. Zavitz discovers the murder, and alerts an underground journalist, at the same time transferring the video to an innocuous computer disc. Reynolds learns of Zavitz's footage, and sends a team to recover the video. While fleeing, Zavitz runs into an old college friend, labor lawyer Robert Clayton Dean (Smith). Zavitz secretly passes the computer disc into Dean's shopping bag without his knowledge. Zavitz flees and is killed when hit by a fire truck. Reynolds soon has the underground journalist killed.
When the NSA discovers that Dean may have the video, a team raids his house and plants surveillance devices. Unable to find the video, the NSA proceeds to falsely incriminate Dean of passing classified information to Rachel Banks (Bonet), a former girlfriend. The subterfuge destroys Dean's life: he is fired from his job, his bank accounts are frozen, and his wife (King) throws him out of the house. Dean, trailed by the NSA, meets with Banks, who sets up a meeting with "Brill", one of her secret contacts. After meeting an NSA agent posing as Brill (Byrne), Dean realizes his error, only to have the real Brill, retired NSA agent Edward Lyle (Hackman), ferry him to temporary safety and help rid Dean of most of the tracking devices he is unwittingly carrying. Dean ultimately rids himself of the final device and, fleeing his pursuers, escapes.
With Dean and Lyle in hiding, the NSA agents kill Banks and frame Dean for the murder. Lyle is able to find evidence that the NSA executed Hammersley's murder, but it is destroyed during an escape from an NSA raid.
It is then revealed that Lyle was an expert in communications for the NSA; he was stationed in Iran before the Iranian Revolution. When the revolution occurred, Lyle made it out of the country, but his partner, Rachel's father, was killed. Since then he has been in hiding. Lyle tries to coax Dean into trying to run away, but Dean is adamant about clearing his name.
Dean and Lyle blackmail another supporter of the surveillance bill, Congressman Sam Albert (Wilson), by videotaping him having an affair with his aide. Dean and Lyle "hide" bugs that Reynolds had used on Dean in Albert's room so Albert will find them and have the NSA start an investigation. Lyle also deposits $140,000 into Reynolds' bank account to make it appear that he is taking bribes.
Lyle contacts Reynolds to tell him he has the video of the Hammersley murder and asks to meet. Dean tells them that the Hammersley murder footage is in the hands of Mafia boss Joey Pintero (Sizemore), whose office is under FBI surveillance. Dean, Reynolds, and the NSA team head into Pintero's restaurant, precipitating a gunfight that kills the mobsters, Reynolds, and several of his NSA team.
Dean and Lyle escape, with Lyle quickly disappearing from the authorities. The FBI discovers the plot behind the legislation, causing it to fail, though they cover up the NSA's involvement. Dean is cleared of all charges and is reunited with his wife. Lyle escapes to a tropical location, but sends a "goodbye" message to Dean.
P.S. We found a complete version of Red Dawn 2012
http://www.conspiracy-cafe.com/apps/videos/videos/show/17511543-conspiracy-night-at-the-movies-red-dawn-2012