Seconds is a 1966 American science-fiction drama film directed by John Frankenheimer and starring Rock Hudson. The screenplay by Lewis John Carlino was based on Seconds, a novel by David Ely. The film was entered into the 1966 Cannes Film Festival and released by Paramount Pictures. The cinematography by James Wong Howe was nominated for an Academy Award.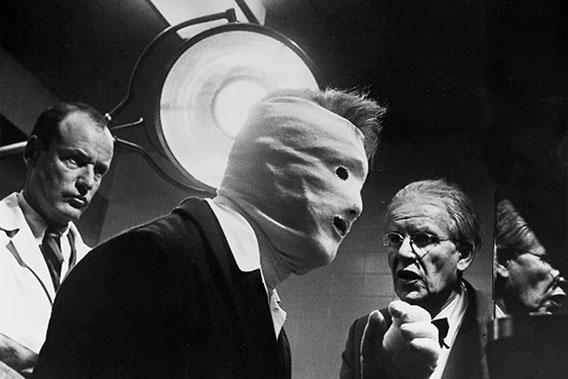 Plot
Arthur Hamilton (John Randolph) is a middle-aged man whose life has lost purpose. He has achieved success, but finds it unfulfilling. His love for his wife has dwindled, and he seldom sees his only child. Through a friend, Charlie, whom he thought was dead, Hamilton is approached by a secret organization, known simply as the "Company", which offers him a new life. He ruminates on the proposition as he rides a commuter train on his way home. His wife meets him as he arrives home, but it is apparent that he is alienated from her.
Hamilton arrives at a meat-packing plant for a meeting. He is given workman overalls and hat, then exits the facility by a different door and is seated inside a truck that takes him to another building. He disappears into a large complex filled with dark, empty hallways, where he awaits his transformation. The Company gives Hamilton the appearance of a young man (Hudson) through plastic surgery, and a new identity, namely "Antiochus 'Tony' Wilson". He later discovers this identity has been taken from someone who recently died.
He is resettled into a community filled with people like him who are "reborns". Eventually, Hamilton decides the new life is not what he wants. He contacts the Company, letting them know he wants a different identity, and they agree, taking him back to wait for his new identity. There, he meets Charlie, who has also wished to go under yet another "rebirth". Charlie is chosen and walked away from the waiting room. Later during the night, the owner of the Company discusses his original purpose for founding the organization, and assures Hamilton that the issues he has brought up will be looked into. Hamilton realizes as he is wheeled into the operating room, before being sedated, that he is to be killed. His body will be used as the catalyst (corpse) for a new patient to be reborn. The film ends with the camera tilting up to a surgical light as a drill is brought down: as he loses consciousness, he has a memory of two figures walking along a beach; the image distorts and loses resolution.