FULL MOVIE:
https://www.mojvideo.com/video-good-morning-vietnam-1987-full-movie-online/75c02421a540ac7ecfbe
http://www1.putlockersfm.com/watch/good-morning-vietnam-1988-online-putlockers.html

Good Morning, Vietnam is a 1987 American war-comedy film written by Mitch Markowitz and directed by Barry Levinson.
Set in Saigon in 1965, during the Vietnam War, the film stars Robin Williams as a radio DJ on Armed Forces Radio Service, who proves hugely popular with the troops, but infuriates his superiors with what they call his "irreverent tendency". The story is loosely based on the experiences of AFRS radio DJ Adrian Cronauer.
Most of Williams' radio broadcasts were improvised. The film was a critical and commercial success; for his work in the film, Williams won a Golden Globe Award for Best Actor – Motion Picture Musical or Comedy and was nominated for an Academy Award for Best Actor. The film is number 100 on the list of the "American Film Institute's 100 Funniest American Movies".
In 1965, Airman Second Class Adrian Cronauer (Williams) arrives in Saigon from Crete to work as a DJ for Armed Forces Radio Service. Cronauer is greeted by Private First Class Edward Montesquieu Garlick (Whitaker). Cronauer's irreverence contrasts sharply with many staff members and soon rouses the ire of two of his superiors, Second Lieutenant Steven Hauk (Kirby) and Sergeant Major Phillip Dickerson (Walsh). Hauk adheres to strict Army guidelines in terms of humor and music programming, while Dickerson is generally abusive to all enlisted men. However, Brigadier General Taylor (Willingham) and the other DJs quickly grow to like the new man and his brand of comedy. Cronauer's show consists of unpredictable humor segments mixed with news updates (vetted by the station censors) and rock and roll records that are frowned upon by his superiors.
Cronauer meets Trinh (Chintara Sukapatana), a Vietnamese girl, and follows her to an English class. Bribing the teacher to let him take over the job, Cronauer starts instructing the students in the use of American slang. Once class is dismissed, he tries to talk to Trinh but is stopped by her brother Tuan. Instead, Cronauer befriends Tuan and takes him to Jimmy Wah's, the local GI bar, to have drinks with Garlick and the station staff. Two other soldiers, angered at Tuan's presence, initiate a confrontation that Cronauer escalates into a brawl.
Dickerson reprimands Cronauer for this incident, but his broadcasts continue as before. While relaxing in Jimmy Wah's one afternoon, he is pulled outside by Tuan moments before the building explodes, killing two soldiers and leaving Cronauer badly shaken. The cause of the explosion is determined to be a bomb; the news is censored, but Cronauer locks himself in the studio and reports it anyway. The reaction of Cronauer's information left mixed reactions. Dickerson cuts off the broadcast and Cronauer is suspended. Hauk takes over his shows, but his poor attempts at comedy and insistence on playing polka music lead to a flood of letters and phone calls from servicemen who demand that Cronauer be put back on the air.
In the meantime, Cronauer spends his time drinking and pursuing Trinh, only to be rebuffed at every attempt. At the radio station, Taylor intervenes on Cronauer's behalf, ordering Hauk to reinstate him, but Cronauer refuses to go back to work. Garlick's and Cronauer's vehicle becomes stopped in a congested street amidst a convoy of soldiers from the 1st Infantry Division, who persuade him to do an impromptu "broadcast" for them before they go off to Nha Trang to fight. This incident reminds him why his job is important, and he soon returns to the air.
Dickerson devises a ploy to get rid of Cronauer by sending him and Garlick to interview soldiers in the field, knowing that the only road into the area, a highway to An Lộc, is controlled by the Viet Cong. Their Jeep is blown off the road by a mine and they are forced to hide in the jungle from the VC patrols. In Saigon, Tuan, who learns of their trip after Cronauer fails to show up for English class, steals a van and drives off after them. He finds them, but the van breaks down and they must flag down a Marine helicopter to take them back to the city.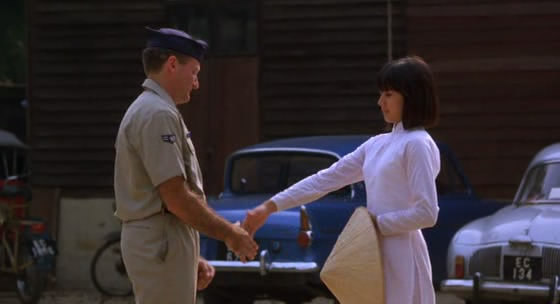 At the station, Dickerson confronts Cronauer, declaring he is now off the air for good. His friend Tuan is revealed as a VC operative who was responsible for the bombing of Jimmy Wah's. Dickerson has arranged for an honorable discharge, provided Cronauer leaves "quietly." General Taylor arrives and informs Cronauer that, regrettably, he cannot help him since his friendship with Tuan would place the reputation of the US Army at risk. After Taylor leaves, Cronauer asks Dickerson why he engineered his dismissal. Dickerson openly admits his personal dislike for Cronauer, his sense of humor, and his style of broadcasting. After Cronauer leaves, Taylor casually informs an astonished Dickerson that he is being transferred to Guam, citing Dickerson's vindictive attitude as the reason. Secretly, however, he also does it, because he knows what Dickerson did though he can't prove it and secretly expresses pure disdain for it.
Cronauer chases down Tuan after accosting Trinh for her brother's whereabouts. Cronauer loses Tuan in the village, and he decries Tuan's actions against the American forces. Emerging from the shadows, Tuan retorts that the United States military has devastated his family, and that for him that makes the United States the enemy. The next day, on his way to the airport with Garlick, and under MP escort, Cronauer sets up a quick softball game with the students from his English class (fulfilling a promise he made to them), where he gets to say goodbye to Trinh. As he boards the plane, he gives Garlick a taped farewell message; Garlick – taking Cronauer's place as DJ – plays the tape on the air the next morning. It begins with a yell of "Gooooooooooooooooodbye, Vietnam!" and runs through a few of Cronauer's impressions before ending with his wish that everyone will get home safely.