From UFOTV®, accept no imitations. Beneath the pyramids of Egypt lies a lost underworld of catacombs, hewn chambers and cave tunnels that have remained unexplored for hundreds of years. They are alluded to in ancient texts and Arab legends, but have been left unexplored until today. They have now been rediscovered and investigated for the first time. What exactly does this subterranean realm tell us about the pyramids, their relationship to the stars and the mythical origins of Egyptian civilization? Discover for yourself as we explore the "Lost Caves of Giza."
PART ONE - IS CYGNUS THE KEY TO UNLOCKING
THE PYRAMIDS'GRAND UNIFIED PLAN?
Andrew Collins, author The Cygnus Mystery and Beneath the Pyramids, Presents Fresh Evidence that the Cygnus Star System is Behind a Grand Design or Cosmic Blueprint at Giza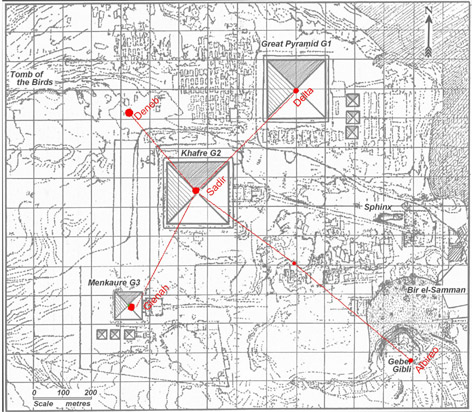 The best match for the Cygnus wing stars and the three Giza Pyramids taking into account the correct proper motion for the star Gienah and the slight adjustment for refraction (which really only affects the position of Gienah - shown as the gap between the end of the line and the star - since it would have been the nearest star to the horizon when measured). The other key stars are only marked for comparison with the whole Cygnus star group. 

| | |
| --- | --- |
| Posted by George Freund on December 4, 2012 at 9:39 AM | 3314 Views |