DIRECT LINK:
https://www.dailymotion.com/video/x6ll46q

https://ruvid.net/video/the-champions-episode-20-the-silent-enemy-divx-Xz694O_1TU4.html
The Champions is a British espionage/science fiction/occult detective fiction adventure series consisting of 30 episodes broadcast on the UK network ITV during 1968-1969, produced by Lew Grade's ITC Entertainment production company. The series was broadcast in the US on NBC, starting in summer 1968.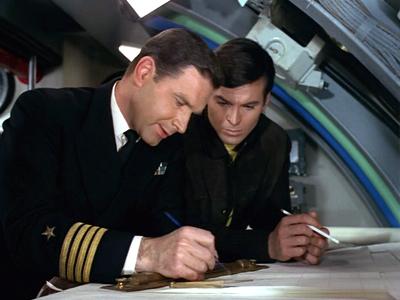 The series features Craig Stirling, Sharron Macready and Richard Barrett as agents for a United Nations law enforcement organization called "Nemesis", based in Geneva. The three have different backgrounds: Barrett is a code breaker, Stirling a pilot, and Macready a recently widowed scientist and doctor. 
During their first mission as a team, their plane crashes in the Himalayas. They are rescued by an advanced civilization living secretly in the mountains of Tibet, who save their lives, granting them perfected human abilities, including powers to communicate with one another over distances by ESP (telepathy), and to foresee events (precognition), enhanced five senses and intellect, and physical abilities to the fullest extent of human capabilities.
Many stories feature unusual villains, such as fascist regimes from unspecified South American countries, Nazis (a common theme of ITC 1960s and '70s TV, in part due to both the domestic audience and writers having been the "War generation") or the Chinese. The villains' schemes often threaten world peace – Nemesis's brief is international, so the agents deal with threats transcending national interests. The main characters have to learn the use of their new powers as they go along, keeping what they discover secret from friends and foe alike. Each episode begins with a teaser, followed by the title/theme song. Immediately following that is a post-title sequence vignette in which one of The Champions demonstrates exceptional mental or physical abilities, often astonishing or humiliating others. In one example Stirling participates in a sharpshooting contest. Additionally, Stirling hears the ticking of his girlfriend's lost wristwatch in a large field, enabling him to locate it. In another, laughing hoodlums block in Macready's car, which she physically pulls out of the parking space one-handed. Ironically, the narration during these often public demonstrations usually mentions the need to keep the powers a secret.
20 "The Silent Enemy" Donald James Robert Asher February 12, 1969
The Champions are sent on a mission to recreate the journey of a submarine, which came into port with all of its crew dead from unknown causes.
The entire crew of the submarine 'Keppel' are found dead at their posts. All have died of cardiac arrest. The Champions join a fresh crew to re-trace the voyage but in the Atlantic they lose radio control.They find an uncharted island which is being used for illegal nuclear tests by a country whom the U.N. denied nuclear weapons. The 'Keppel' crew were killed because they came across it. Richard and Craig join a landing party but they are all gassed, except the two Champions, who are taken to be experimented on by mad scientist Minoes.The lads escape but must flee the island before it is engulfed in poison gas.
With Paul Maxwell, Marne Maitland, Esmond Knight, James Maxwell, David Blake Kelly, Rio Fanning
Our submarine role was played by HMS Artemis which foundered while refueling. 
HMS Artemis (P449) was an Amphion-class submarine of the Royal Navy, built by Scotts Shipbuilding & Engineering Co. of Greenock and launched 28 August 1946. The submarine sank while refueling in 1971, was raised and sold for breaking up in 1972.
The show is a great video display of the interior of that era's RN submarine. HMS Alliance is a museum ship.