DIRECT LINK:
http://www.dailymotion.com/video/x5m8jn8
Wanted Dead or Alive is an American Western television series starring Steve McQueen as the bounty hunter Josh Randall. It aired on CBS for three seasons in 1958?61. The black-and-white program was a spin-off of a March 1958 episode of Trackdown, a 1957?59 western series starring Robert Culp. Both series were produced by Four Star Television in association with CBS Television.
The series launched McQueen, known for the concept of "cool" in entertainment, as the first television star to cross over into comparable status on the big screen.
Josh Randall (McQueen) is a Confederate veteran and bounty hunter with a soft heart. He often donates his earnings to the needy and helps his prisoners if they have been wrongly accused.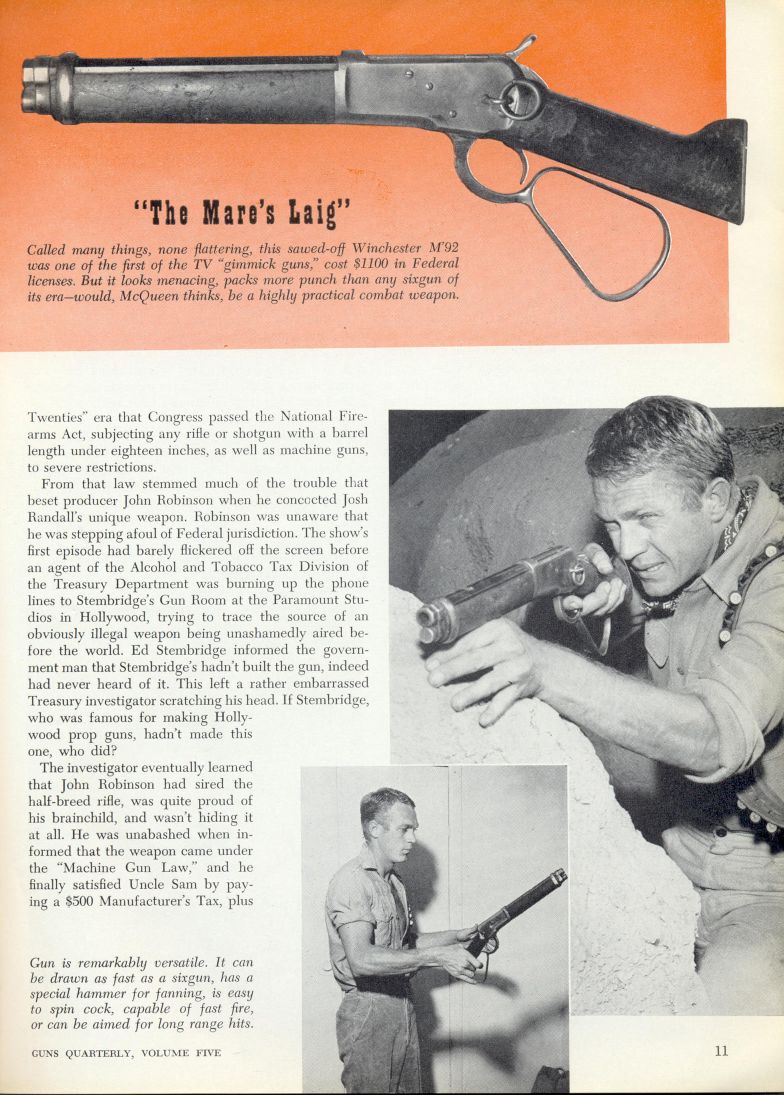 Randall carries a shortened Winchester Model 1892 carbine called the "Mare's Leg" in a holster patterned after "gunslinger" rigs then popular in movies and television. Randall can draw and fire his weapon with blazing speed. Three Mare's Legs were used in the series, differing in the shape of the lever and the barrel.
Although Randall is a bounty hunter, he doesn't chase and capture only men on wanted posters. He also settles a family feud, frees unjustly jailed or sentenced men, helps an amnesia victim recover his memory, and finds missing husbands, sons, fathers, a fiancée, a suitor, a daughter who had been captured many years earlier by Indians, an Army deserter, a pet sheep, and even Santa Claus. This variety, as well as his pursuit of justice and not just money, contributed to the show's attraction and popularity.
Except for a few episodes at the beginning of the series, Randall rode a horse named Ringo.
Several episodes in 1960 included a sidekick named Jason Nichols (Wright King), a deputy sheriff turned bounty hunter. He and Randall worked well together on-screen, sharing a chemistry audiences enjoyed. By the start of the third season, Nichols had been dropped. The episode called "The Partners", where Nichols killed three men that Randall felt could have been taken alive, is often considered the episode that broke up the partnership, although that was actually only the second episode with Wright King and long before the last episode he appeared in.
" Three hard mother-grabbin' years, but I learned my trade and it gave me discipline."
McQueen, commenting about his experience on the series.
3 3 "The Bounty" Thomas Carr Samuel A. Peeples September 20, 1958
Josh clashes with a sadistic bounty hunter as they search for a reclusive old man with an Apache bodyguard wanted for a crime committed years ago.
Josh is allowed by some Indians to use their village well, although they meet him in a very unkindly way. When Josh relates this incident to his old acquaintance John at the Sheriff's Office in Miles City, John tells him that he have met the Indian Charlie Two-Hawks and the half-breed Juanita Hernandez. Juanita and her father Juan Hernandez have lived 15 years with a tribe of Indians two days away from Miles City. They are very reclusive, and never visit the town. John is suddenly interrupted by the bounty hunter Daimler, who steps into the office and says that he overheard them. Daimler is convinced that the mysterious Juan Hernandez in reality is Don Diego Vasquez, who has been wanted 15 years for murder. There is a reward of 500 dollars for him - dead or alive - and Daimler is going to get it. Josh promises the sheriff to stop Daimler from killing Juan Hernandez. Instead he will bring the old man alive to Miles City for a fair trial.