DIRECT LINKS:
http://hd.today/watch/kvX5bKxe-beyond-the-edge.html

http://www1.putlockersfm.com/watch/beyond-the-edge-2013-online-putlockers.html
OOPS was distracted. The links are corrected.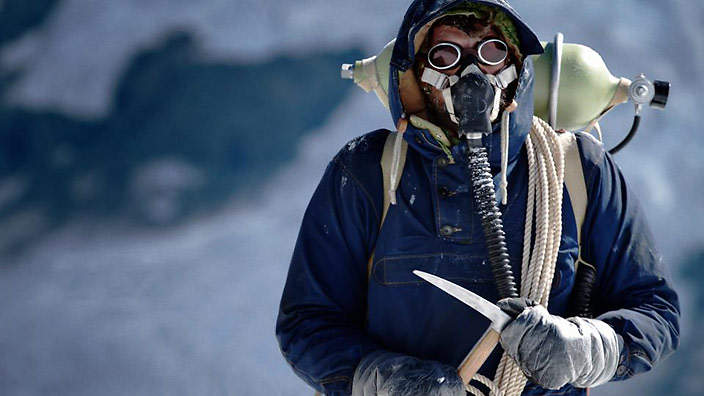 Beyond the Edge is a 2013 New Zealand 3D docudrama about Tenzing Norgay and Sir Edmund Hillary's historical ascent of Mount Everest in 1953. As well as featuring dramatised recreations shot on location on Everest and in New Zealand, the film includes original footage and photographs from what was then the ninth British expedition to the mountain. It also includes audio from interviews with Hillary and recorded narration by expedition leader John Hunt.
The film premiered at the 2013 Toronto International Film Festival on 6 September 2013, where it won positive reviews from fans and film critics. The Toronto Star gave it 3.5 out of 4 stars. It was second runner-up in competition for the People's Choice Award. It premiered in New Zealand on 22 October 2013.
Cast
Chad Moffitt: Sir Edmund Hillary
Sonam Sherpa: Tenzing Norgay
John Wraight: John Hunt, Baron Hunt
Joshua Rutter: George Lowe
Dan Musgrove: Tom Bourdillon
Edmund Hillary and Tenzing Norgay in 1953

The 1953 British Mount Everest expedition was the ninth mountaineering expedition to attempt the first ascent of Mount Everest, and the first confirmed to have succeeded when Edmund Hillary and Tenzing Norgay reached the summit on Friday, 29 May 1953. Led by Colonel John Hunt, it was organised and financed by the Joint Himalayan Committee. News of the expedition's success reached London in time to be released on the morning of Queen Elizabeth II's coronation, 2 June.
CONTINUED AT LINK ABOVE:
United Kingdom John Hunt Expedition leader and mountaineer British Army Colonel 42
United Kingdom Charles Evans Deputy expedition leader and mountaineer Physician 33
United Kingdom George Band Mountaineer Graduate in geology 23
United Kingdom Tom Bourdillon Mountaineer Physicist 28
United Kingdom Alfred Gregory Mountaineer Director of travel agency 39
United Kingdom Wilfrid Noyce Mountaineer Schoolmaster and author 34
United Kingdom Griffith Pugh Doctor and mountaineer Physiologist 43[42]
United Kingdom Tom Stobart Cameraman and mountaineer Cameraman 38[36]
United Kingdom Michael Ward Expedition doctor and mountaineer Physician 27
United Kingdom Michael Westmacott Mountaineer Statistician 27
United Kingdom Charles Wylie Organizing secretary and mountaineer Soldier 32
New Zealand Edmund Hillary Mountaineer Apiarist 33
New Zealand George Lowe Mountaineer Schoolmaster 28
India Nepal Tenzing Norgay Mountaineer and guide 38
Nepal Sherpa Annullu Mountaineer and guide