DIRECT LINK:
https://openload.co/f/WJO_n5KpVt8/Red.Dawn.1984.720p.x264.YIFY.mp4

http://hd.today/watch/yd6L0nx7-red-dawn-1984.html
http://www1.putlockersfm.com/watch/red-dawn-1984-online-putlockers.html
http://losmovies.cx/free-movie/tt22543/watch-online-red-dawn

Red Dawn is a 1984 American war film directed by John Milius, filmed in Metrocolor and Panavision, and co-written by Milius and Kevin Reynolds. It stars Patrick Swayze, C. Thomas Howell, Lea Thompson, Ben Johnson, Harry Dean Stanton, Ron O'Neal, William Smith, and Powers Boothe. It was the first film to be released in the US with a PG-13 rating.
The film is set in an alternate history timeline in which the United States is invaded by the Soviet Union and its Cuban and Nicaraguan allies. However, the onset of World War III is in the background and not fully elaborated. The story follows a group of American high school students who resist the occupation with guerrilla warfare, calling themselves Wolverines, after their high school mascot.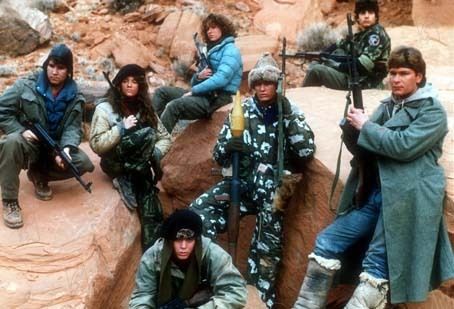 Now you understand why the traitors inside the republic want to disarm us and teach the youth to hate guns.
'Defend yourselves!' Russian war hero tells schoolboys to prepare to KILL foreigners
Russia's 200,000-strong CHILD ARMY
Vladimir Putin's 'youth army' has swollen by 150,000 recruits in ONE year
There are victors and vanquished. You get to choose. Choose well.