ALTERNATE LINK:
http://hd.today/watch/LxRkKYGO-breaker-morant.html

Breaker Morant is a 1980 Australian film about the court martial of Breaker Morant, directed by Bruce Beresford and starring British actor Edward Woodward as Harry "Breaker" Morant and Jack Thompson as his attorney. The all-Australian supporting cast features Bryan Brown and Lewis Fitz-Gerald.
Beresford co-wrote the screenplay from the 1978 play Breaker Morant: A Play in Two Acts by Kenneth G. Ross.[3][4]
Breaker Morant preceded other Australian New Wave war films such as Gallipoli (1981), The Lighthorsemen (1987), and the five-part TV series ANZACS (1985). Recurring themes of these films include the Australian identity, such as mateship and larrikinism, the loss of innocence in war, and also the continued coming of age of the Australian nation and its soldiers (later called the ANZAC spirit).
The film was a top performer at the 1980 Australian Film Institute awards, with ten wins, including: Best Film, Best Direction, Leading Actor, Supporting Actor, Screenplay, Art Direction, Cinematography, and Editing. It was also nominated for the 1980 Academy Award for the Best Writing (Screenplay Based on Material from Another Medium).
Plot
Three Australian Army officers of the Bushveldt Carbineers serving in South Africa during the Second Boer War (1899–1902) are on trial in a court-martial for murder. Lieutenants Harry "Breaker" Morant, Peter Handcock, and George Witton are accused of the murder of one Boer prisoner and the subsequent murders of six more. In addition, Morant and Handcock are accused of the sniper-style assassination of a German missionary, the Rev. H. C. V. Hesse. Their defence counsel, Major J. F. Thomas, has had only one day to prepare their defence.
Lord Kitchener, who ordered the trial, hopes to bring the Boer War to an end with a peace conference. To that end, he uses the Morant trial to show that he is willing to judge his own soldiers harshly if they disobey the rules of war. Although, as Major Thomas mentions in court, there are great complexities associated with charging active-duty soldiers with murder during battle, Kitchener is determined to have a guilty verdict, and the chief of the court, Lt. Colonel Denny, supports him.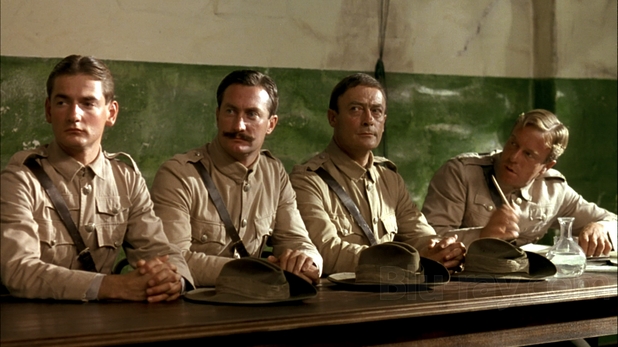 Major Thomas's speech on the "barbarities of war" provides the climax of the film:
Now, when the rules and customs of war are departed from by one side, one must expect the same sort of behaviour from the other. Accordingly, officers of the Carbineers should be, and up until now have been, given the widest possible discretion in their treatment of the enemy.
Now, I don't ask for proclamations condoning distasteful methods of war, but I do say that we must take for granted that it does happen. Let's not give our officers hazy, vague instructions about what they may or may not do. Let's not reprimand them, on the one hand for hampering the column with prisoners, and at another time, and another place, hold them up as murderers for obeying orders.[...]
The fact of the matter is that war changes men's natures. The barbarities of war are seldom committed by abnormal men. The tragedy of war is that these horrors are committed by normal men in abnormal situations, situations in which the ebb and flow of everyday life have departed and have been replaced by a constant round of fear, and anger, blood, and death. Soldiers at war are not to be judged by civilian rules, as the prosecution is attempting to do, even though they commit acts which, calmly viewed afterwards, could only be seen as unchristian and brutal. And if, in every war, particularly guerrilla war, all the men who committed reprisals were to be charged and tried as murderers, court martials like this one would be in permanent session. Would they not?
I say that we cannot hope to judge such matters unless we ourselves have been submitted to the same pressures, the same provocations as these men, whose actions are on trial.
The defendants are found guilty of executing the prisoners but acquitted of murdering the missionary and are sentenced to death, with Witton's sentence being commuted to "life in penal servitide."
History
After the events in this movie, Major Thomas returned to Australia and continued his civilian law practice. Witton served three years of his sentence, then was released after a national outcry. In 1907, he wrote a book entitled Scapegoats of the Empire, an account of the Breaker Morant affair (reprinted in 1982). Witton's book proved so inflammatory and anti-British that it was suppressed during both world wars.
| | |
| --- | --- |
| Posted by George Freund on November 10, 2013 at 11:18 AM | 3144 Views |