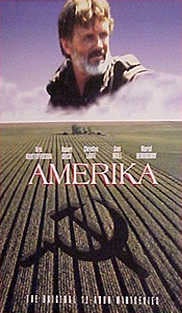 Many of you were too young to remember the TV Mini Series Amerika. What happens after the takeover? What will you see? How will you cope? Kris Kristofferson will show you how.
SEGMENT PART 1 of 13:
http://www.youtube.com/watch?v=KU49MR19CcA

YOUTUBE HAS SEGMENTS. http://www.youtube.com/watch?v=KU49MR19CcA&feature=related
Amerika is an American television miniseries that was broadcast in 1987 on ABC. The miniseries inspired a novelization entitled Amerika: The Triumph of the American Spirit. Amerika starred Kris Kristofferson, Mariel Hemingway, Sam Neill, Robert Urich, and a 17-year-old Lara Flynn Boyle in her first major role. Amerika was about life in the United States after a bloodless takeover engineered by the Soviet Union. Not wanting to depict the actual takeover, ABC Entertainment president Brandon Stoddard set the miniseries ten years after the event, focusing on the demoralized U.S. people a decade after the Soviet conquest. The intent, he later explained, was to explore the U.S. spirit under such conditions, not to portray the conflict of the Soviet coup.
| | |
| --- | --- |
| Posted by George Freund on December 18, 2011 at 1:56 PM | 4716 Views |