Published on Nov 11, 2016
Shooting and discussing the Bat Masterson Long Branch Colt Single Action Army revolver in .45 Colt chambering.
Colt Single Action Army Revolver Review
For as long as you've been seeking oxygen, craftsmen in Hartford, Connecticut, have been breathing life into a gun that, after more than 140 years, refuses to be exiled into antiquity. It's one that was dropped on the banks of the Little Big Horn in 1876. In Arizona, Bat Masterson wielded it with retribution in 1878 and Wyatt Earp with ease and efficiency in 1881. The Rough Riders carried it up San Juan Hill, and it rode the range, the veldt and the gold fields with Major Burnham. Americans carried it to Europe during World War I, and Patton carried it there and to Africa during World War II. In 1969, John Wayne carried one to his only Oscar win.
For as long as young men have fantasized about gunfighters and saloons, toy versions of this gun have graced their hands. The Colt Single Action Army (SAA) revolver is a handgun that embodies the American spirit like no other. It's considered a man's gun because almost every man has dreamed of one. It's an American man's gun because when ruggedness and manliness were American qualities that mattered, it was the gun real men carried.
Wrap your hand around a Colt SAA, and you can almost feel an electric charge. Your thumb instinctively finds the hammer, and as it's retracted, you hear the unmistakable four clicks that signify this is, by God, a C-O-L-T. It's the first sound Custer, Earp, Masterson, Patton and Wayne heard every time they thumbed that hammer, and for many an outlaw, gangster, road agent or ruffian, it's the last sound they ever heard.
CONTINUED AT LINK ABOVE: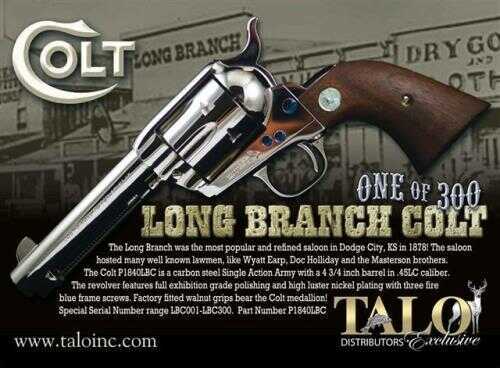 Bartholemew William Barclay "Bat" Masterson (November 26, 1853 – October 25, 1921) was a U.S. Army scout, lawman, professional gambler, and journalist known for his exploits in the 19th-century American Old West. Born to a working-class Irish family in Quebec, Masterson moved to the Western frontier as a young man and quickly distinguished himself as a buffalo hunter, civilian scout, and Indian fighter on the Great Plains. He later earned fame as a gunfighter and sheriff in Dodge City, Kansas, during which time he was involved in several notable shootouts.
By the mid-1880s, Masterson moved to Denver, Colorado and established himself as a "sporting man" (or gambler). He took an interest in prizefighting and became a leading authority on the sport, attending almost every important match and title fight in the United States from the 1880s until his death in 1921. He moved to New York City in 1902 and spent the rest of his life there as a reporter and columnist for the New York Morning Telegraph; Masterson's column not only covered boxing and other sports, but frequently gave his opinions on crime, war, politics, and other topics as well. He became a close friend of President Theodore Roosevelt and was one of the "White House Gunfighters" who received federal appointments from Roosevelt, along with Pat Garrett and Ben Daniels.
By the time of his death in 1921, Masterson was known throughout the country as a leading sports writer and celebrity. He is remembered today for his connection to many of the Wild West's most iconic people, places, and events, and his life and likeness are frequently depicted in American popular culture.
Custer's Last Gun: Webley RIC Revolver
There exists a revealing 1870s-vintage photograph of Custer and his wife, Libby, sitting in their library at Ft. Abraham Lincoln on the Missouri River, Dakota Territory. In the far right corner is the Lt. Colonel's gun rack. Four handguns can be seen: two Smith & Wesson No. 2s that had been presented to him by Major General J.B. Sutherland; a percussion revolver, most likely either a Colt 1861 Navy or Remington New Model Army, given to him by Remington; and what strongly appears to be a Webley Royal Irish Constabulary revolver.
The big feature the Webley had was the fact it was double action. However, in the era the top break was king. All spent cartidges could be ejected at once and it was of course much easier to reload. These features might have helped the 7th Cavalry very much. Once empty an adversary could easily advance while you eject the cartridges and insert fresh ammunition. After 6 you need the knife. 
The .45 Colt cartridge, which is sometimes called .45 Long Colt, .45 LC, or 11.43×33mmR, is a handgun cartridge dating to 1872. It was originally a black-powder revolver round developed for the Colt Single Action Army revolver. This cartridge was adopted by the U.S. Army in 1873 and served as an official US military handgun cartridge for 14 years. While it is sometimes referred to as .45 Long Colt or .45 LC, to differentiate it from the very popular and ubiquitous .45 ACP, and historically, the shorter .45 S&W Schofield, it was only an unofficial designation by Army quartermasters. Current catalog listings of compatible handguns list the caliber as .45 LC and .45 Colt. Both the Schofield and the .45 Colt were used by the Army at the same period of time prior to the adoption of the "M1887 Government" version of the .45 Schofield cartridge