Uploaded on Dec 23, 2011
Fun Gun Reviews Presents: "Night Moves" Firearms Training in the Dark of Night.
A well written article at link:

Light Up The Night: Handgun Solutions in Low Light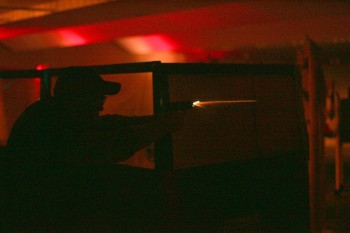 In the article Training Solutions in Low Light Environments, I addressed equipping and using a rifle in low-light environments. However, the vast majority of us will probably be armed with a handgun in situations where we need to defend ourselves. This article will address some of the things I have learned over the last several years training and teaching people how to shoot in low-light situations.
Light Selection
Pros and Cons of Weapon-Mounted Lights
Handheld Lighting Techniques
Night Sights
I hope your biggest takeaway from this article is that low-light training is a must if you want to be prepared to fight in situations where there is little or no light. In order to assess and select the right technique for you and your circumstances, you must constantly experiment with your gear and the techniques you may find useful.

| | |
| --- | --- |
| Posted by George Freund on November 10, 2015 at 9:56 PM | 1840 Views |