The M1917 Revolver (formally United States Revolver, Caliber .45, M1917) was a U.S. six-shot revolver of .45 ACP caliber. It was adopted by the U.S. Army in 1917 to supplement the standard M1911 .45 ACP semi-automatic pistol during World War I. Afterwards, it was primarily used by secondary and non-deployed troops. There were two variations of the M1917, one made by Colt and the other made by Smith & Wesson.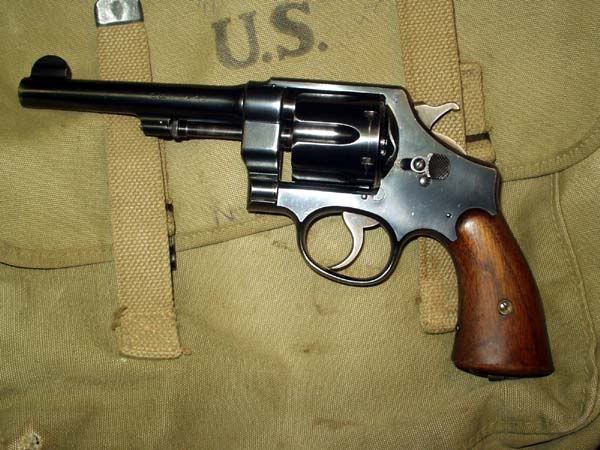 Background
U.S. civilians arms companies of Colt and Remington-UMC as well as other companies were producing M1911 pistols under contract for the U.S. Army, but even with the additional production there existed a shortage of M1911s. The interim solution was to ask the two major American producers of revolvers to adapt their heavy-frame civilian revolvers to the standard .45 ACP pistol cartridge. Both companies' revolvers utilized half-moon clips to extract the rimless .45 ACP cartridges. Smith & Wesson invented and patented the half-moon clip, but at the request of the Army allowed Colt to also use the design free of charge in their own version of the M1917 revolver.[1]

Smith & Wesson M1917 revolver
The Smith & Wesson Model 1917 was essentially an adaptation of that company's Second Model .44 Hand Ejector, chambered instead for .45 ACP, employing a shortened cylinder allowing for use of half-moon clips, and a lanyard ring on the butt of the frame. Smith & Wesson had recently (c. 1915–16) produced the Hand Ejector, which uses their heavy .44 caliber frame, for the British Army in .455 Webley caliber due to shortages in British production facilities of standard-issue Webley Mk VI top-break revolvers.[1]
The S&W M1917 is distinguishable from the Colt M1917 in that the S&W cylinder had a shoulder machined into it to permit rimless .45 ACP cartridges to headspace on the case mouth (as with automatic pistols). The S&W M1917 could thus be used without the half-moon clips, though the empty cases would have to be poked-out manually through the cylinder face, since the extractor star cannot engage the rimless cases.
While these revolvers were originally blued, S&W M1917 revolvers rebuilt during and after World War II may have been parkerized during arsenal rebuild or under a refurbish contract with S&W.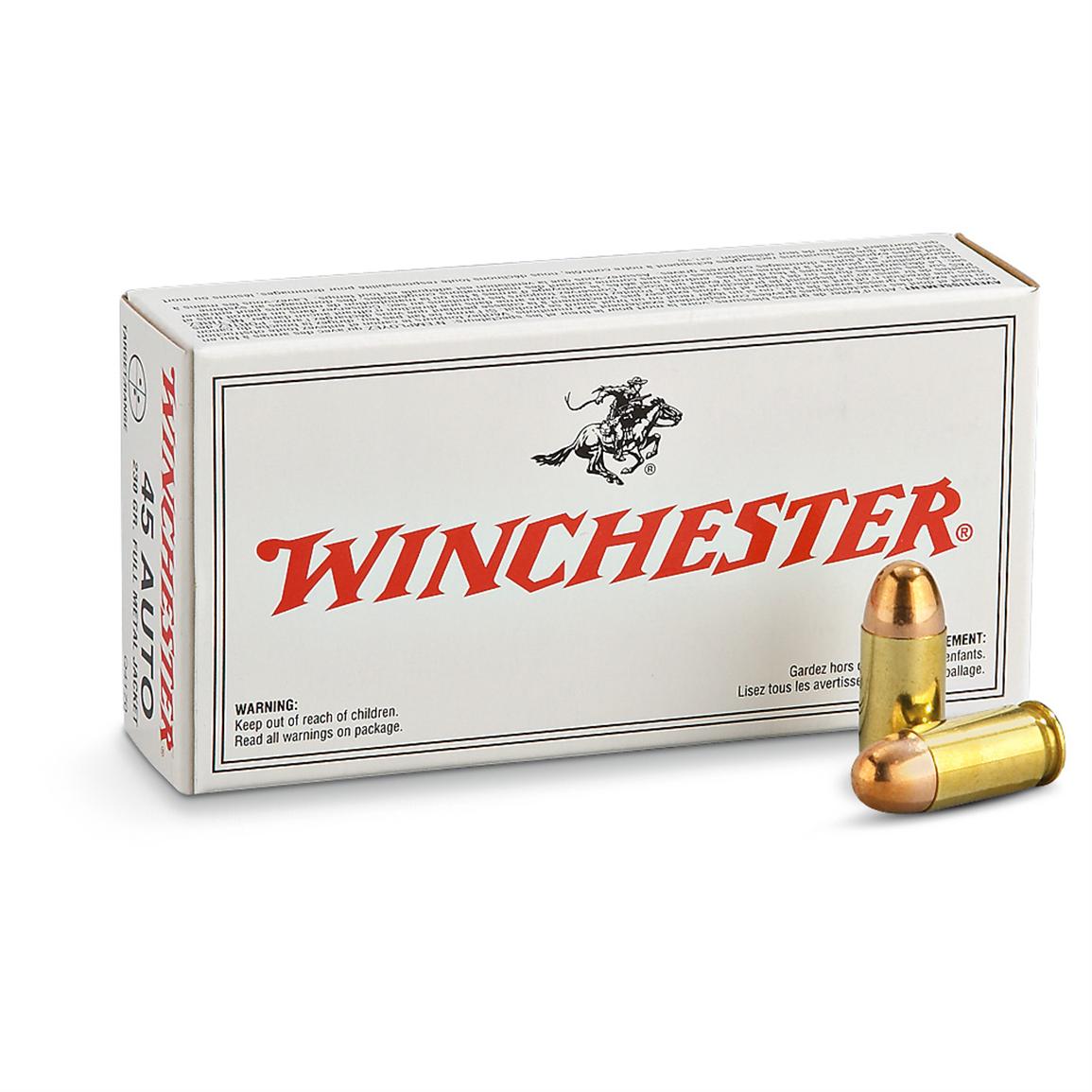 The .45 ACP (11.43×23mm) (Automatic Colt Pistol), also known as the .45 Auto by C.I.P. or 45 Auto by SAAMI, is a cartridge designed by John Browning in 1904, for use in his prototype Colt semi-automatic .45 pistol and eventually the M1911 pistol adopted by the United States Army in 1911.
The .45 ACP is an effective combat pistol cartridge that combines accuracy and stopping power for use against human targets. The cartridge also has relatively low muzzle blast and flash, as well as moderate recoil. The standard issue military .45 ACP round has a 230 grain bullet that travels at approximately 830 feet per second when fired from the government issue M1911A1 pistol and approximately 950 feet per second from the M1A1 Thompson sub-machine gun.
Even in its non-expanding full metal jacket (FMJ) version, the .45 ACP cartridge has a reputation for effectiveness against human targets because its large diameter creates a deep and substantial permanent wound channel which lowers blood pressure rapidly. The wounding potential of bullets is often characterized in terms of a bullet's expanded diameter, penetration depth, and energy. Bullet energy for .45 ACP loads varies from roughly 350 to 500 ft·lbf (470 to 680 J).
The .45 Auto Rim, a.k.a. 11.5x23R is a rimmed cartridge specifically designed to be fired in revolvers originally chambered for the .45 ACP cartridge. It eliminates the need for the clips. The brass is widely available for handloading.

| | |
| --- | --- |
| Posted by George Freund on September 6, 2015 at 9:46 PM | 3981 Views |