Man in a Suitcase is a British television private eye thriller series produced by Lew Grade's ITC Entertainment. It originally aired in the United Kingdom on ITV from 27 September 1967 to 17 April 1968. ABC broadcast episodes of Man in a Suitcase in the United States from 3 May to 20 September 1968.
Origins and overview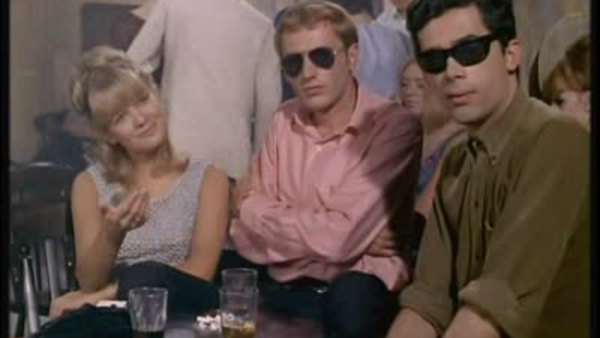 Man in a Suitcase was effectively a replacement for Danger Man, whose production had been curtailed when its star Patrick McGoohan had decided to create his own series, The Prisoner. Many of the Danger Man production crew moved over to Man in a Suitcase, which was initially to be titled McGill after its lead character. As with several ITC productions, the series was to use an American star in an attempt to boost the show's sales in the US. An early choice was Jack Lord, but the part of McGill eventually went to Richard Bradford, a method actor who was spotted after appearing opposite Marlon Brando in the 1966 movie The Chase. The series was created by Richard Harris and Dennis Spooner. Neither writer had any further involvement with the series—Spooner was mostly involved with producing his own series, The Champions—and the lead character changed somewhat from their original conception of a hard-boiled, wise-cracking detective.
McGill was a former US intelligence agent, who had been forced to resign from the service six years before the opening episode, having been practically accused of treason. Unable to clear his name or return to the USA, McGill makes ends meet by working as a travelling private detective and bounty hunter based in Britain, living out of his suitcase (hence the title). His cases generally took him to different parts of Europe, and on a couple of occasions to Africa.
The theme tune was composed by Ron Grainer—it was later reused as the theme for Chris Evans' entertainment show TFI Friday. The incidental music was supplied by Albert Elms.
Man in a Suitcase S1.E7 Sweet Sue
Episode aired Nov 8, 1967
McGill is hired by the wealthy father of headstrong young Sue Mandel. She has recently become friends with two young men,Colin and Charles,who are helping themselves to his money and who,he believes,are planning to swindle him. By setting himself up as a mark,McGill takes the two on a poker game,where they try to cheat him but he cleans them out. The far-from-happy con men are now after his blood and he needs to persuade Sue of their intentions to survive.