For English click on the little head option 2.
Ancient Aliens is an American television series that premiered on April 20, 2010, on the History channel. Produced by Prometheus Entertainment in a documentary style, the program presents hypotheses of ancient astronauts and proposes that historical texts, archaeology, and legends contain evidence of past human-extraterrestrial contact. The show has been widely criticized by historians, cosmologists and other scientific circles for presenting and promoting pseudoscience and pseudohistory.
28 13 "Aliens and the Secret Code" October 19, 2011
This episode theorizes that various megalithic structures around the Earth are built upon a "world grid" of electromagnetic energy and that this power may have been tapped for travel and communication. It also suggests that there are hidden messages within these sites that show they have connections to one another. Featured are Teotihuacan and Easter Island, (sites separated by 2000 miles of ocean, but having similar architecture); the Pyramids at Giza, Thornborough Henges, and ancient Hopi cities (all three configured to resemble Orion); the straight line alignments of sites such as Trelleborg, Delphi and Giza; and stone carvings at Gavrinis (from 3500 BC) accurately calculating the circumference of the Earth and Pi.
What Is The Geocentric Model Of The Universe?
Pages from Sacrobosco's "Tractatus de Sphaera" (1550), showing the Ptolemaic system.
Cygnus is a northern constellation lying on the plane of the Milky Way, deriving its name from the Latinized Greek word for swan. Cygnus is one of the most recognizable constellations of the northern summer and autumn, and it features a prominent asterism known as the Northern Cross (in contrast to the Southern Cross). Cygnus was among the 48 constellations listed by the 2nd century astronomer Ptolemy, and it remains one of the 88 modern constellations.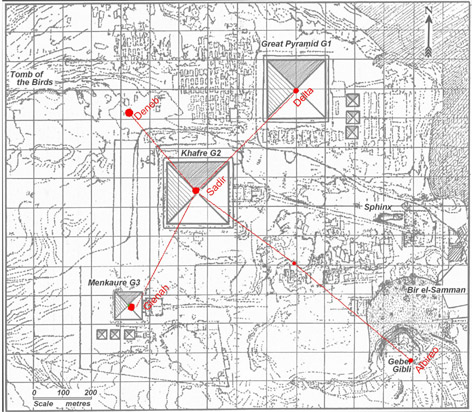 Andrew Collins, author The Cygnus Mystery and Beneath the Pyramids, Presents Fresh Evidence that the Cygnus Star System is Behind a Grand Design or Cosmic Blueprint at Giza
I'm a Cygnus advocate. When making your treasure maps you don't want the secrets to be widely known. So you add a red herring or two. I believe Orion was that red herring so we'd always be looking in the wrong direction. Cygnus is easaily visible with a light telescope. 
The North America Nebula (NGC 7000) is one of the most well-known nebulae in Cygnus.