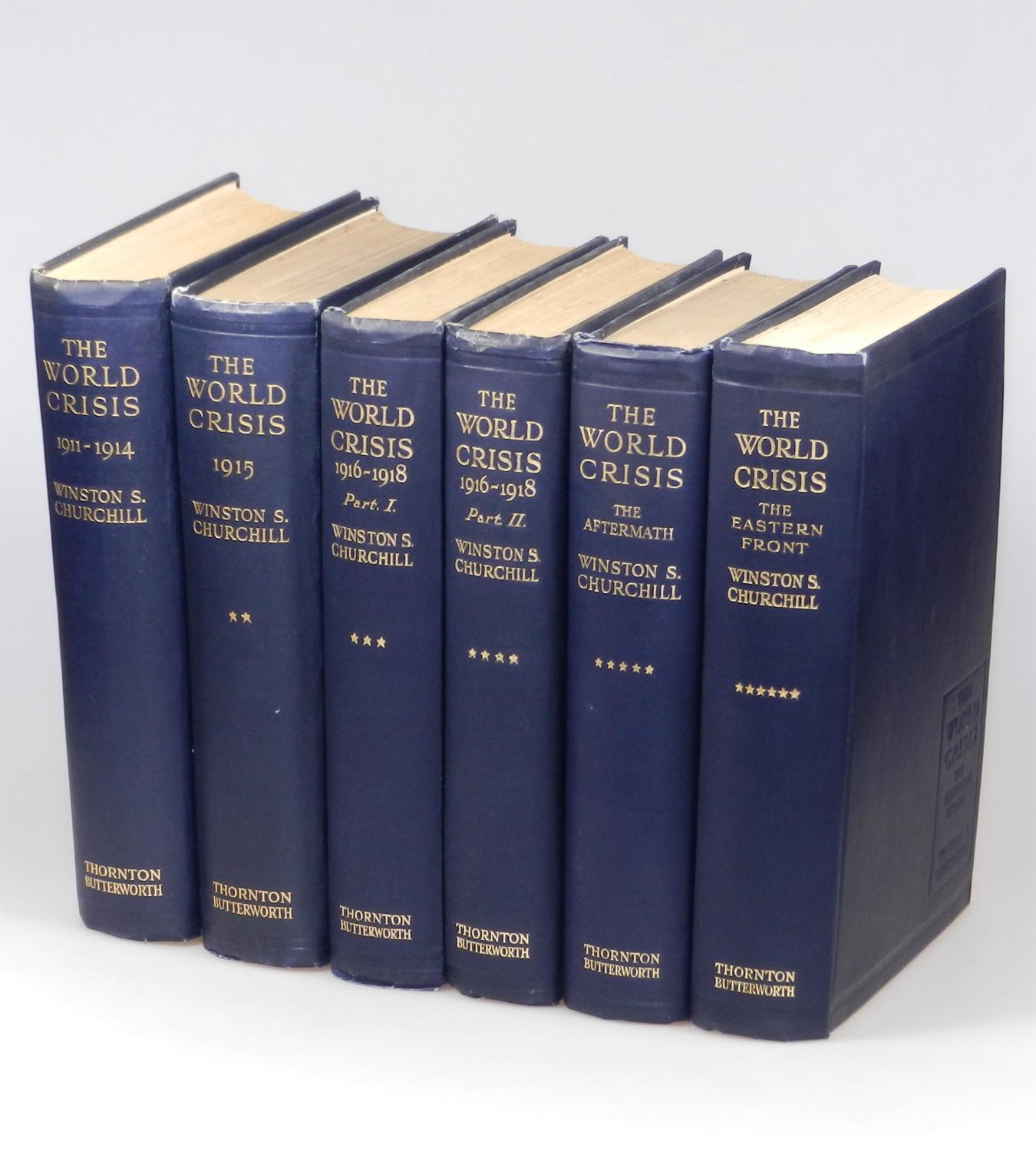 The World Crisis is Winston Churchill's account of the First World War, published in six volumes (technically five, as Volume III was published in two parts). Published between 1923 and 1931: in many respects it prefigures his better-known multivolume The Second World War. The World Crisis is analytical and, in some parts, a justification by Churchill of his role in the war. Churchill is reputed to have said about this work that it was "not history, but a contribution to history".
His American biographer William Manchester wrote: "His masterpiece is The World Crisis, published over a period of several years, 1923 to 1931, a six-volume, 3,261-page account of the Great War, beginning with its origins in 1911 and ending with its repercussions in the 1920s. Magnificently written, it is enhanced by the presence of the author at the highest councils of war and in the trenches as a battalion commander". The British historian Robert Rhodes James writes: "For all its pitfalls as history, The World Crisis must surely stand as Churchill?s masterpiece. After it, anything must appear as anticlimax". Rhodes James further comments, "Churchill?s literary work showed a certain decline in the 1930s" and that his Marlborough and The History of the English-Speaking Peoples have more of a rhetorical note than The World Crisis.
Volume IV: The Aftermath 1918–1922 (published 1929)
The Preface says it is mainly concerned with reactions outside the Peace Conference in the "halls of Paris and Versailles" though there are chapters on the conference, the League of Nations and the Peace Treaties. Churchill indicts the Treaty of Versailles as being too harsh and predicts it will cause future problems...
Churchill points out that he went to Paris to discuss Russia not to attend the Peace Conference, though he asked Wilson for a decision on the Russian item when it came up, rather than a continuation of "aimless unorganised bloodshed" until Wilson returned. There are chapters on Russia, Poland, Ireland, Greece and Turkey, with an Appendix on the Cairo Conference, Iraq, and "the Pacification of the Middle East". He denies the claim by Wilson's assistant Ray Stannard Baker that he was "the most militaristic of British leaders" and "an opponent of the League" (of Nations). Rhodes comments that The Aftermath contains "the most ferocious denunciations of (Bolshevik) Russia: ... poisoned ... infected ... a plague-bearing Russia ... armed hordes".