The Time Tunnel is a 1966-1967 U.S. color science fiction TV series, written around a theme of time travel adventure and starring James Darren and Robert Colbert. The show was inspired by the 1964 movie The Time Travelers (AIP/Dobil), and was creator-producer Irwin Allen's third science fiction television series, released by 20th Century Fox Television and broadcast on ABC. The show ran for one season of 30 episodes. Reruns are viewable on cable and by Internet streaming. A pilot for a new series was produced in 2002, although it was not picked up.
Project Tic-Toc is a top secret U.S. government effort to build an experimental time machine, known as "The Time Tunnel" due to its appearance as a cylindrical hallway. The base for Project Tic-Toc is a huge, hidden underground complex in Arizona, 800 floors deep and employing over 36,000 people. The directors of the project are Dr. Douglas Phillips (Robert Colbert), Dr. Anthony Newman (James Darren), and Lt. General Heywood Kirk (Whit Bissell). The specialists assisting them are Dr. Raymond Swain (John Zaremba), a foremost expert in electronics, and Dr. Ann MacGregor (Lee Meriwether), an electro-biologist supervising the unit that determines how much force and heat a time traveler is able to withstand. The series is set in 1968, two years into the future of the actual broadcast season, 1966-67.
Project Tic-Toc is in its tenth year when United States Senator Leroy Clark (Gary Merrill) comes to investigate in order to determine whether the project, which has cost 7.5 billion dollars, is worth continuing. Senator Clark feels the project is a waste of government funds. When speaking to Phillips, Kirk, and Newman in front of the Time Tunnel, he delivers an ultimatum: either they send someone into time and return him during the course of his visit or their funding will cease. Tony volunteers for this endeavor, but he is turned down by project director Doug Phillips. Defying this decision, Tony sends himself into time. Doug follows shortly after to rescue him, but they both continue to be lost in time. Senator Clark returns to Washington with the promise that funding will not be cut off to the project, leaving General Kirk in charge.
29 "Raiders from Outer Space" November 2, 1883 Nathan Juran Bob and Wanda Duncan Near Khartoum, Sudan March 31, 1967
Tony and Doug arrive in the middle of the Battle of Khartoum between British and Arab forces in the Sudan. This chapter is loosely based on the campaign of General Gordon. In their efforts to hide from the battling armies, they encounter two aliens who take them prisoner. The alien leader (from Aristos) then contacts the Time Tunnel control center and tells them not to interfere.
Rather than kill them, the aliens are ordered by their leader to bring Tony and Doug back to their base. After explaining their plan to conquer Earth by destroying the city of London, the aliens order Dr. Newman to be taken out in the desert and killed with a dehydration ray while Dr. Phillips will be put in a machine to extract all of his knowledge. But the alien ordered to kill Dr. Newman leaves when they are encountered by two British soldiers. Dr. Newman is thought to be an Arab spy, so he leads them to the alien base where one of the soldiers is killed. The Time Tunnel is also able to move Dr. Phillips out of the alien machine to where Dr. Newman is. In response, the aliens send a bomb to the Time Tunnel control room that will explode in sixty minutes unless all personnel are evacuated to the upper levels of the complex.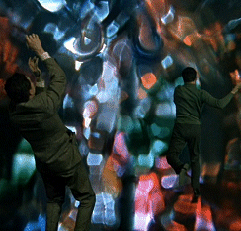 Unable to attack the aliens effectively with the resources at hand, Tony, Doug, and the British soldier fetch grenades and gunpowder from Khartoum. They attack the alien base, but have insufficient resources left to destroy it. However, just before the bomb explodes in the Time Tunnel control room, the Time Tunnel transfers the bomb to the alien base, destroying it a few minutes later.
Note: The Battle of Khartoum was fought in 1884−1885.