Blue Öyster Cult (often abbreviated BÖC or BOC) is an American rock band formed in Stony Brook, New York in 1967, perhaps best known for the singles "(Don't Fear) The Reaper", "Burnin' for You", "Cities on Flame with Rock and Roll", and "Godzilla." Blue Öyster Cult has sold more than 24 million records worldwide, including 7 million in the United States alone.[3] The band's music videos, especially "Burnin' for You," received heavy rotation on MTV when the music television network premiered in 1981, cementing the band's contribution to the development and success of the music video in modern popular culture.
Blue Öyster Cult's longest-lasting and most commercially successful lineup included Donald "Buck Dharma" Roeser (lead guitar, vocals), Eric Bloom (lead vocals, "stun guitar", keyboards, synthesizers), Allen Lanier (keyboards, rhythm guitar, backing vocals), Joe Bouchard (bass, vocals), Albert Bouchard (drums, percussion, cowbell, vocals). The band's current lineup includes Roeser and Bloom, as well as Danny Miranda (bass, backing vocals), Jules Radino (drums, percussion) and Richie Castellano (keyboard, rhythm guitar, lead and backing vocals).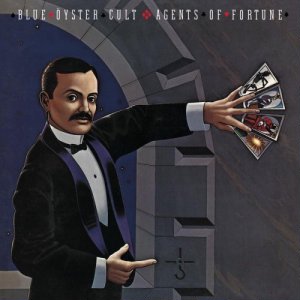 "(Don't Fear) The Reaper" is a song by American rock band Blue Öyster Cult from the band's 1976 album Agents of Fortune. The song, written and sung by lead guitarist Donald "Buck Dharma" Roeser, deals with eternal love and the inevitability of death. Dharma wrote the song while picturing an early death for himself.
Released as an edited single (omitting the slow building interlude in the original), the song was Blue Öyster Cult's highest chart success, reaching #7 in Cash Box and #12 on the Billboard Hot 100 in late 1976. Critical reception was mainly positive, and in 2004, "(Don't Fear) The Reaper" was listed at number 405 on Rolling Stone's list of the top 500 songs of all time.