DIRECT LINK:
http://www3.putlockersfm.com/watch/the-borgias-s03-2013-online-putlockers.html?p=1&s=11

The Borgias is a historical-fiction drama television series created by Neil Jordan; it debuted in 2011 and was canceled in 2013.
The series is set around the turn of the 16th century and follows the Borgia family. It stars Jeremy Irons as Pope Alexander VI with François Arnaud as Cesare, Holliday Grainger as Lucrezia and David Oakes as Juan. Colm Feore also stars as Cardinal della Rovere.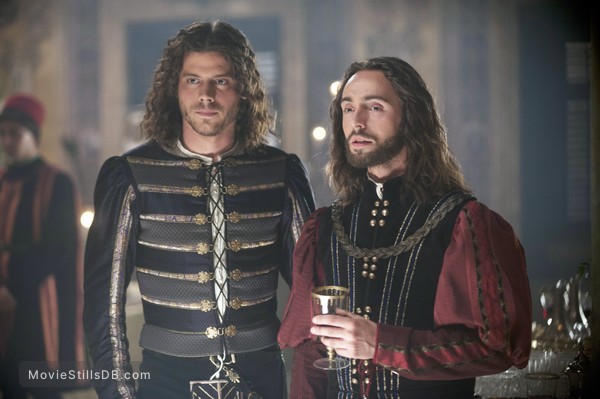 The series follows the rise of the Borgia family to the pinnacle of the Roman Catholic Church and their struggles to maintain their grip on power. The beginning of the first season depicts the election of Rodrigo Borgia to the papacy through simony and bribery, with the help of his sons, Cesare and Juan. Upon winning the election, Rodrigo Borgia becomes Pope Alexander VI, which then thrusts him and his family deep into the murky heart of politics in fifteenth-century Europe: from shifting loyalties within the College of Cardinals to the ambitions of the kings of Europe to the venomous rivalries between the noble families of Italy at the time.
22 3 "Siblings" Jon Amiel Guy Burt April 28, 2013 0.569[24]
As the purged Cardinals are dismissed and stripped of their titles and wealth Cardinal Versucci angrily sets the Vatican Treasury ablaze after stealing a large sum, which he gives to a small convent. Incensed by the new King Ferdinand's arrogant refusal to accept Giovanni as Lucrezia's child, Cesare travels to Naples to fix the problem and begins to consider an alliance with the old enemy France. After Lucrezia and Alfonso's wedding, Alfonso sees that Cesare isn't sure about his allegiance to the Borgia family. Upset, he leaves Lucrezia alone and the marriage unconsummated. Deciding that only a Borgia can truly love a Borgia, Lucrezia visits Cesare in his chambers and makes love to him, committing incest.