DIRECT LINK:
http://hd.today/watch/GLkyepEx-the-border-season-2/episode-13.html

The embedded one is a mirror image reversed. The link is O.K. but HD. It stalls a lot I find. I also thought this episode was a trifle cheesy, but it does add to the intrigue between nations. The secret serice agent adds an interesting twist too. They have divided loyalties. You think?
The Border is a Canadian drama that aired on CBC Television and 20 other TV networks worldwide. It was created by Peter Raymont, Lindalee Tracey, Janet MacLean and Jeremy Hole of White Pine Pictures. The executive in charge of production is Janice Dawe. Episodes in the first season were directed by John Fawcett, Michael DeCarlo, Ken Girotti, Kelly Makin, Brett Sullivan and Philip Earnshaw. The first season had a total budget of 20 million dollars, with about 1.5 million dollars per episode.
The series is set in Toronto and follows agents of Immigration and Customs Security (ICS), a fictitious agency described as being created by the Government of Canada to deal with trans-border matters including terrorism and smuggling.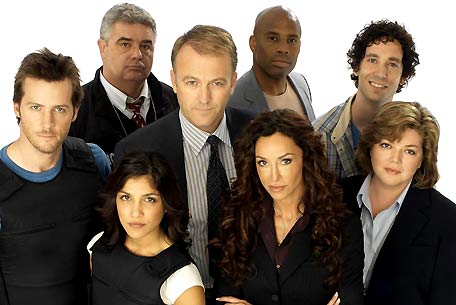 26 13 "Going Dark" John Fawcett Janet MacLean December 22, 2008
Gray gets threatened by American-based mobsters to assist them in smuggling their "goods" to Canada while he suffers from relationship problems from his superiors and from Liz. Layla and Dougie are taken hostage by the mobsters while a Turcott Solutions-led tactical team led by Mannering investigates the case with their manpower covertly.