PT-109 was a PT boat (patrol torpedo boat) last commanded by Lieutenant (junior grade) John F. Kennedy, future United States President, in the Pacific Theater during World War II. His actions to save his surviving crew after the sinking of PT-109 made him a war hero. PT-109's collision contributed to Kennedy's long-term back problems and required months of hospitalization at Chelsea Naval hospital. Kennedy's post-war campaigns for elected office referred often to his service on the PT-109.
Specifications
PT-109 belonged to the PT-103 class, hundreds of which were completed between 1942 and 1945, by Elco, in Bayonne, New Jersey. The ship's keel was laid 4 March 1942, as the seventh Motor Torpedo Boat (MTB) of the 80-foot-long (24 m)-class built by Elco, and was launched on 20 June. She was delivered to the Navy on 10 July 1942, and fitted out in the New York Naval Shipyard in Brooklyn.
Destroyer Amagiri in 1930, 400 feet and heavily armed
The Elco boats were the largest PT boats operated by the U.S. Navy during World War II. At 80 feet (24 m) and 40 tons, they had strong wooden hulls, constructed of two layers of 1-inch (2.5 cm) mahogany planking, excellent for speed, but offering very limited protection in a firefight or torpedo attack. Powered by three 12-cylinder 1,500 horsepower (1,100 kW) Packard gasoline engines (one per propeller shaft), their designed top speed was 41 knots (76 km/h; 47 mph).
CONTINUED AT LINK:
Kennedy receiving the Navy and Marine Corps Medal
Leonard J. Thom: JFK's XO on PT-109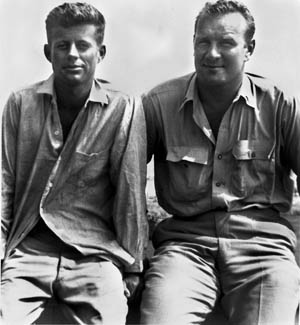 It is my opinion Jack was sent to the South Pacific to be silenced with his death in combat. No suspicion would be raised. Others with prior knowledge of Pearl Harbor had the same fate. Jack had to know based on his serving in intelligence at the outset. His seduction of purported spy Inga Arvad had a lot to do with it. We see in the movie his refusing to return to the States for leave. He couldn't. He saw plenty of action unlike other heroes. This tells the story. It was a hard one to find.
On September 24, 1941 Kennedy, with the help of then director of the Office of Naval Intelligence, and former naval attaché to Joseph Kennedy, joined the United States Naval Reserve. He was commissioned an ensign on October 26, 1941, and joined the staff of the Office of Naval Intelligence in Washington, D.C.
In January 1942, Kennedy was assigned to the ONI field office at Headquarters, Sixth Naval District, in Charleston, South Carolina.