DIRECT LINK:
http://hd.today/watch/xQDkW9ov-designated-survivor-season-1/episode-14.html

Designated Survivor is an American political drama television series created by David Guggenheim, and starring Kiefer Sutherland, airing on ABC. The project skipped the pilot stage and was ordered straight to series on December 14, 2015, followed by a formal announcement on May 6, 2016. The first season premiered on September 21, 2016, with a full season order of 22 episodes coming eight days later.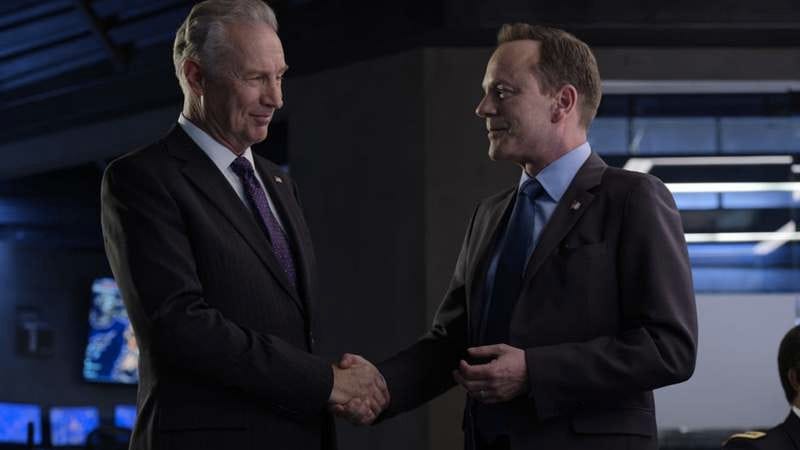 Plot
On the night of the State of the Union address, an explosion claims the lives of the President and all members of his Cabinet except for U.S. Secretary of Housing and Urban Development Tom Kirkman, who has been named the designated survivor. Kirkman is immediately sworn in as President, unaware that the attack is just the beginning of what is to come.
Commander-in-Chief Episode aired 29 March 2017
Turmoil in an African country forces President Kirkman to rely on an unlikely ally for help, as Hannah's investigation into the Capitol bombing takes an unexpected turn. Meanwhile, Emily settles into her new role as chief of staff while Aaron has to make a difficult choice.
Tom meets with one of his predecessors, President Cornelius Moss, as Moss has offered to provide whatever assistance or advice he can. Tom's expectation is that the offer is primarily to provide a list of names for key positions and to use his moral suasion to convince those people to accept the positions that Tom decides. Tom is therefore taken aback by the overall tone of the meeting. Moss' arrival at the White House coincides with a growing problematic situation in the African country of Neruba, which if something is not done Tom predicts will be another genocide. Without UN support due to current geopolitical differences among security council members, the US may have to go it alone to prevent that genocide. The tensions are increased when it is discovered that a handful of American lives are at jeopardy. Moss' presence in the war room may demonstrate to Tom how much of his assistance Tom should accept or request in its entirety. Meanwhile, Langdon is sighted in meeting with Aaron. Langdon is eventually apprehended and brought in for questioning, most of the world still having believed that he died in the Capitol bombing. Despite having some hand in what happened the fateful Capitol bombing day, Langdon professes that he did not have any intentional complicity in the matter. Tom, with professional advice from Hannah, John and Mike, has to decide how much of Langdon's story to believe and how to move forward. The Langdon situation and rumors among some of the White House press corps prove to be difficult for Aaron, who makes a unilateral decision as to his immediate future.