DIRECT LINK:
http://zputlocker.com/watch/vnZ2JgLv-ncis-los-angeles-season-10/episode-24.html

NCIS: Los Angeles is an American action television series combining elements of the military drama and police procedural genres, which premiered on CBS on September 22, 2009, and stars Chris O'Donnell and LL Cool J. The series follows the exploits of the Los Angeles?based Office of Special Projects (OSP), an elite division of the Naval Criminal Investigative Service that specializes in undercover assignments.
NCIS: Los Angeles follows Special Agent G. Callen (Chris O'Donnell), a "legend" assigned to the Office of Special Projects (OSP), a fictitious branch of the Naval Criminal Investigative Service (the real-life NCIS has no offices in Los Angeles). Callen leads an elite team of undercover operatives as they battle enemies both foreign and domestic under the watchful eye of Operational Manager Henrietta "Hetty" Lange (Linda Hunt). The team is composed of Agent Kensi Blye (Daniela Ruah), a hand-to-hand combat specialist and forensic whiz, Sam Hanna (LL Cool J), a former Navy SEAL and G's partner, technical analyst Eric Bartholomew Beale III (Barrett Foa), and ranking team member Shay Mosley (Nia Long), NCIS Executive Assistant Director for Pacific Operations (EAD-PAC).
Over the course of the series, the team are assisted by allies from both NCIS and its local counterparts, including LAPD liaison officer Marty Deeks (Eric Christian Olsen), Intelligence Analyst Nell Jones (Renee Felice Smith), Operational Psychologist Nate Getz (Peter Cambor), and rookie field agent Dominic Vail (Adam Jamal Craig), all of whom work side-by-side with NCIS Assistant Director Owen Granger (Miguel Ferrer), a laconic agent and skilled bureaucrat.
240 24 "False Flag" May 19, 2019 5.28 million viewers
This show discusses the false flag to start the war with Iran and Israel and Saudi Arabia's involvement. Considering the news that's rather insightful. Just in time predictive programming.
I gather you see the 666 in the numerology.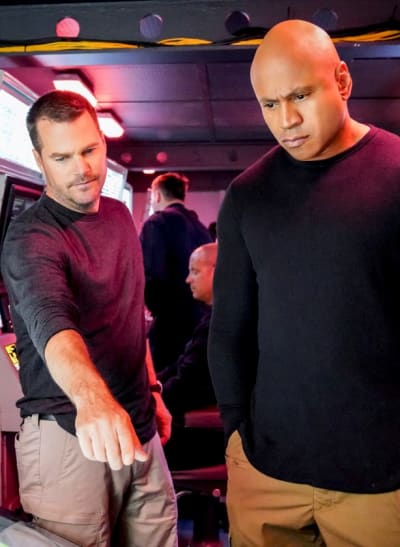 This is The Lone Gunman of the 9/11 predictive programming event. ISIS is setting up to launch missiles at Israel and Saudi Arabia to blame on Iran and start WWIII. Chechen terrorists have infiltrated the crew of the American aircraft carrier in the Iran theater. They commandeered the damage control station. The CIA is in Iraq trying to get operatives in country. ISIS attacks their command bunker. It's a cliff hanger.