An interesting spin. The news isn't fake. It's under ALIEN control. 
DIRECT LINK:
https://ok.ru/video/1844057541373

The Invaders is an American science fiction television program created by Larry Cohen that aired on ABC for two seasons, from January 10, 1967 to March 26, 1968. Dominic Frontiere, who had provided scores for Twelve O'Clock High and The Outer Limits, provided scores for The Invaders as well.
The series was a Quinn Martin Production (Season One was produced in association with the ABC Television Network - or as it was listed in the end credits, "The American Broadcasting Company Television Network").
Roy Thinnes stars as architect David Vincent, who accidentally learns of a secret alien invasion already underway and thereafter travels from place to place attempting to foil the aliens' plots and warn a skeptical populace of the danger. As the series progresses Vincent is able to convince a small number of people to help him fight the aliens.
33 16 "Task Force" December 26, 1967
At the behest of Bob Ferrara (John Lasell), who is one of the group of seven believers, David is meeting publishing magnate William Mace (Martin Wolfson) and his secretary June Murray (Nancy Kovack). Vincent and Edgar Scoville (Kent Smith) are keen to get Mace on their side, especially as Mace feels that his organization has been losing quite a number of its good top executives. Several of Mace's aides, including Mace's nephew Jeremy (Linden Chiles) scoff at the idea of aliens, but Mace calls Scoville saying that he is willing to let Vincent investigate. John Nivin (John Stephenson) is also a close aide of Mace's, but he is an alien reporting to Lund (Frank Marth). The aliens want control of the Publishing Organization so Lund starts by kidnapping Mace and his nephew Jeremy. Lund kills Mace and, knowing that Jeremy is having an affair with June, threatens to also eliminate June unless Jeremy (the new heir of the publishing organization) fully cooperates by putting Lund in control as chief executive.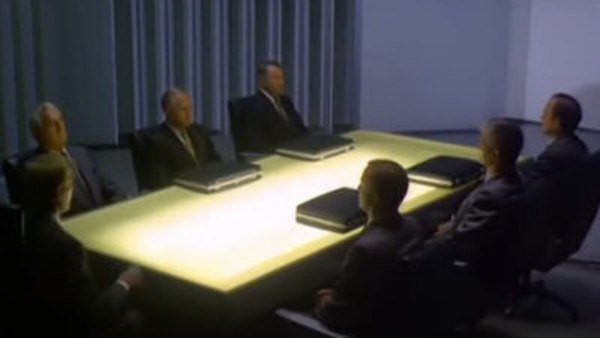 Lund, having killed Mace, fakes a car accident, after which David starts to tackle Jeremy for the truth. As the aliens take control, Vincent and Ferrara try to enlist the help of June to get through to Jeremy, knowing that Jeremy is weak and under pressure from the aliens. As Vincent, Ferrara and June approach a prearranged meeting with Jeremy at night, Nivin and another alien come out and shoot at them, killing Ferrara. Vincent kills the alien but misses Nivin. Meanwhile, Jeremy has been taken to Lund's 'fishing lodge' and when June finds this out, she persuades Vincent to bring her there, but they must approach cautiously as Lund and his fellow aliens, including Nivin, are there also.
As Vincent and June attempt to get inside to talk to Jeremy, Lund is arriving by Helicopter. Vincent finds Jeremy and persuades him to go talk to Lund and to try and take a guard's gun. As Jeremy approaches Lund, he loses courage. As David realizes that Jeremy is too weak, he and June try to escape but are surrounded by alien guards. As Vincent and June are being marched back to the lodge, Jeremy suddenly finds enough courage to grab a guard's gun, killing the guard. Jeremy marches Lund to the helicopter and Vincent and June also jump on board. Even as the helicopter is escaping, the aliens' high command orders Lund to be sacrificed, but the helicopter manages to escape and Vincent is wounded. Lund leaps out of the helicopter, killing himself. Jeremy, being more assertive, cleans out the alien aides from the organization and promises Vincent and Scoville his full support.