DIRECT LINK:
http://www.dailymotion.com/video/x4vn3e0

Murdoch Mysteries is a Canadian television drama series aired on both City and CBC Television, titled The Artful Detective on the Ovation cable TV network, featuring Yannick Bisson as William Murdoch, a police detective working in Toronto, Ontario, around the turn of the twentieth century. The television series is based on characters from the novel series by Maureen Jennings.
The series takes place in Toronto starting in 1895 and follows Detective William Murdoch (Yannick Bisson) of the Toronto Constabulary, who solves many of his cases using methods of detection that were unusual at the time. These methods include fingerprinting (referred to as "finger marks" in the series), blood testing, surveillance, and trace evidence.
Some episodes feature anachronistic technology whereby Murdoch sometimes uses the existing technology of his time to improvise a crude prototype of a technology that would be more readily recognizable to the show's 21st-century audience. In one episode, for instance, he creates a primitive version of sonar to locate a sunken ship in Lake Ontario. In another, he effectively invents wire-tapping. In still another, a foreign police officer has a photograph that Murdoch needs as evidence, so Murdoch asks the other officer to overlay the photograph with a grid numerically coded for the colour in each square, and to transmit the numerical data to Murdoch via telegraph – with the end result that the foreign officer has essentially sent Murdoch a bitmap image they call a "facsimile" – a telefax.
Detective Murdoch is assisted by the three other main characters: Inspector Brackenreid (Thomas Craig), Doctor Julia Ogden (Hélène Joy), and the inexperienced but eager Constable George Crabtree (Jonny Harris), who aspires to be a mystery-novel writer. Brackenreid, Murdoch's immediate superior, is a blunt and sceptical Yorkshireman with a fondness for whisky, and prefers conventional methods of detection over Murdoch's eccentric methods, though he is typically pleased and proud when Murdoch is successful despite the odds. Crabtree is often unable to grasp the more advanced methods, but his enthusiasm and loyalty make him a good assistant. Like Crabtree, Dr. Ogden is a great supporter of Murdoch's methods. Her skill in pathology usually helps by revealing a great deal of useful evidence to aid Murdoch in solving cases. Throughout the series, Murdoch's growing infatuation with her, and his inability to express his feelings, provide a light subplot. In the fifth season, after Dr. Ogden is married to Dr. Darcy Garland (a colleague she met in Buffalo), a new doctor is introduced, Doctor Emily Grace (Georgina Reilly). She and George Crabtree show some romantic interest in each other.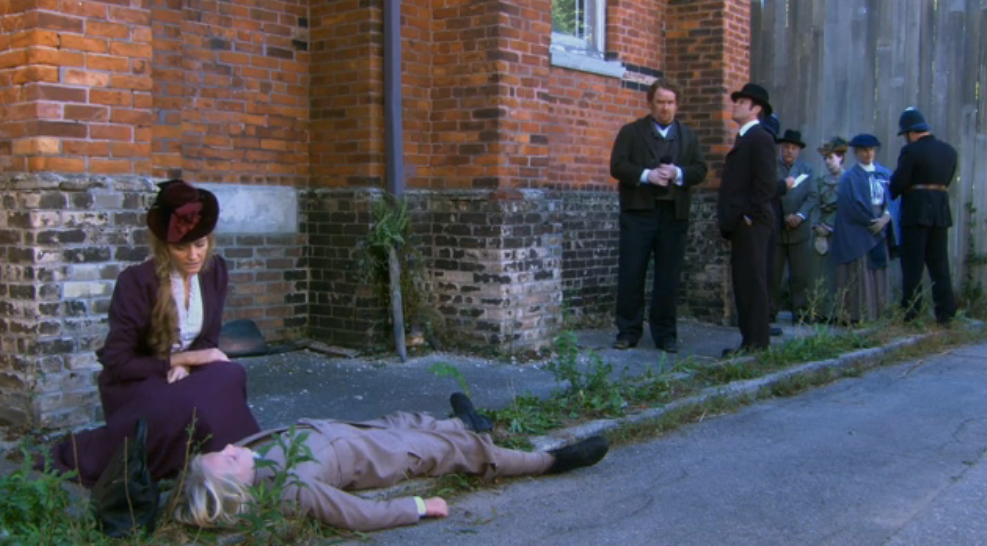 47 8 "Dial M for Murdoch" Leslie Hope Carol Hay April 5, 2011
When a switchboard operator hears an apparent murder over the telephone, Murdoch reveals the elaborate workings of an unlikely gang of thieves. A spirited telephone operator, Tess Moffatt, (Rachel Wilson) takes a liking to Constable George Crabtree and becomes a headache for Detective Murdoch after Tess hears what appears to be the strangulation death of a young woman over the telephone lines. Tess fancies herself an amateur sleuth and has cried wolf before. Inspector Brackenreid, in the midst of a "makeover" at the hands of his political advisor Isaac Lowe, resists Murdoch's wish to pursue Tess's latest report. Then a murder victim is discovered, vindicating Tess, and a second body – tortured to death – is also found. Crabtree and Tess grow closer as they work to solve the murders, but it's Murdoch's improvised telephone wire-tapping technology that uncovers an elaborately constructed criminal enterprise and a psychotic killer who will stop at nothing to preserve it.