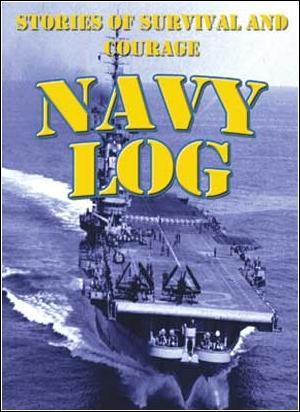 NAVY LOG was a drama anthology series that initially aired for three seasons, first on CBS and later ABC. It relates the greatest survival war stories in the history of the United States Navy. This series premiered on September 20, 1955, but the following year, it was moved to ABC, where it aired until September 25, 1958. The program aired for a total of three seasons and 102 episodes. This episode "Nightmare Off Brooklyn" is from season 2 in 1957. Plot: six German saboteurs slip into the Brooklyn Navy Yard intent on destroying an American cruiser docked there.. Stars Arthur Batanides, Charles Carpenter and George Keymas.
PT 109 23 Oct. 1957
Tells the story of the destruction of the PT109. The crew, led by future US president John F Kennedy, struggles to come up with a survival plan that will help them avoid the numerous Japanese forces in the area.
PT-109 was a PT boat (Patrol Torpedo boat) last commanded by Lieutenant, junior grade John F. Kennedy (later President of the United States) in the Pacific Theater during World War II. Kennedy's actions to save his surviving crew after the sinking of PT-109 made him a war hero, which proved helpful in his political career. The incident may have also contributed to his long-term back problems.
After he became president, the incident became a cultural phenomenon, inspiring a song, books, movies, various television series, collectible objects, scale model replicas, and toys. Interest was revived in May 2002, with the discovery of the wreck by Robert Ballard. PT-109 earned two battle stars during World War II operations.
Despite having a bad back, John F. Kennedy used his father Joseph P. Kennedy's influence to get into the war. He started out in October 1941 as an ensign with a desk job for the Office of Naval Intelligence. Kennedy was reassigned to South Carolina in January 1942 because of his brief affair with Danish journalist Inga Arvad. On 27 July 1942, Kennedy entered the Naval Reserve Officers Training School in Chicago.

PT-109, PT-162, and PT-169 were ordered to continue patrolling the area in case the enemy ships returned. Around 2 a.m. on 2 August 1943, on a moonless night, Kennedy's boat was idling on one engine to avoid detection of her wake by Japanese aircraft when the crew realized they were in the path of the Japanese destroyer Amagiri, which was returning to Rabaul from Vila, Kolombangara, after offloading supplies and 900 soldiers. Amagiri was traveling at a relatively high speed of between 23 and 40 knots (43 and 74 km/h; 26 and 46 mph) in order to reach harbor by dawn, when Allied air patrols were likely to appear.
CONTINUED AT LINK ABOVE:
Was he sent to his death like his older brother? Was it the girl or did he know something like the truth about Pearl Harbor?