DIRECT LINK:
http://www.dailymotion.com/video/x426n4k

The Invaders is an American science fiction television program created by Larry Cohen that aired on ABC for two seasons, from January 10, 1967 to March 26, 1968. Dominic Frontiere, who had provided scores for Twelve O'Clock High and The Outer Limits, provided scores for The Invaders as well.
The series was a Quinn Martin Production (Season One was produced in association with the ABC Television Network - or as it was listed in the end credits, "The American Broadcasting Company Television Network").
Roy Thinnes stars as architect David Vincent, who accidentally learns of a secret alien invasion already underway and thereafter travels from place to place attempting to foil the aliens' plots and warn a skeptical populace of the danger. As the series progresses Vincent is able to convince a small number of people to help him fight the aliens.
13 "The Captive" November 28, 1967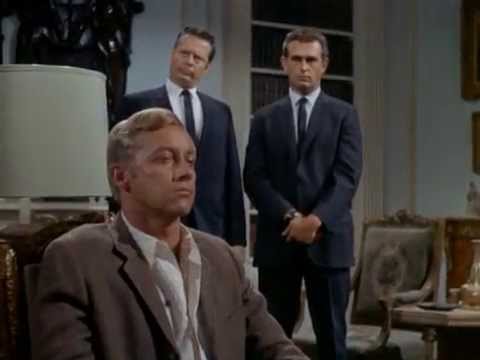 At a Foreign Delegation to the United Nations building, an alien intruder Sanders (Don Dubbin) tries to rob a safe with security information on troop movements in Asia, but he is interrupted by UN security staff and shot but only injured in the scuffle. The internal doctor Dr. Katherina Serret (Dana Wynter) cannot find a pulse and pronounces the intruder dead, whereupon he soon recovers. After further medical examination Dr. Katherina declares that he is not human, much to the shock of the delegation leader Deputy Ambassador Borke (Fritz Weaver). However, Dr. Katherina, knowing something of David Vincent, sends for Vincent in order to get advice, but Borke is a paranoid man on the edge and is confused as to whether the intruder is an alien or just a 'home-grown' spy robot? Vincent pleads with Borke to turn the alien over to the military, but Borke has other ideas and instead imprisons David Vincent together with the alien. The alien Sanders is well aware of Vincent's history and Sanders suspecting that the cell is bugged by Borke, tries to implicate Vincent in a plot by making out that Vincent is a comrade. Vincent finds the bugging device and rips it apart, at which point Sanders tells Vincent that it won't be long before 'his people' come to rescue him.
Shortly thereafter, two aliens arrive in the guise of police detectives and meet with Borke in order to ask questions about a 'rumored' break-in. When Borke refuses to allow them search the building, they pull guns and demand to be taken to Sanders. However, they are overpowered by internal security staff and killed in a scuffle, whereupon they are vaporized. Borke becomes even more unsure as to what to do and summons Vincent and tells Vincent that he will be forced along with Sanders to travel to the foreign country. Vincent uses a confidential meeting with Dr. Katherine in order to effect an escape, but on climbing out over the fence he is immediately captured by aliens. David then does a deal with the invaders by saying that he can get Sanders out, but the aliens only allow Vincent two hours to do it. After involving a state department official, who is killed by the aliens, Vincent re-enters the delegation and persuades Dr. Katherine to cause a diversion with Borke while he gets Sanders out before the invaders destroy the building. Sanders manages to escape, but when Borke comes close to being vaporized himself by the aliens, he becomes a 'believer'. Dr. Katherine quits the delegation and returns to her homeland in order to warn her people about the Invaders.