You Tube mind control mandarins banned it.
NEW LINK:
https://archive.org/details/GunsmokeS1E1

Gunsmoke is an American radio and television Western drama series created by director Norman Macdonnell and writer John Meston. The stories take place in and around Dodge City, Kansas, during the settlement of the American West. The central character is lawman Marshal Matt Dillon, played by William Conrad on radio and James Arness on television. When aired in the UK, the television series was initially titled Gun Law, later reverting to Gunsmoke.
The radio series ran from 1952 to 1961. John Dunning wrote that among radio drama enthusiasts, "Gunsmoke is routinely placed among the best shows of any kind and any time." The television series ran for 20 seasons from 1955 to 1975, and lasted for 635 episodes. At the end of its run in 1975, Los Angeles Times columnist Cecil Smith wrote: "Gunsmoke was the dramatization of the American epic legend of the west. Our own Iliad and Odyssey, created from standard elements of the dime novel and the pulp Western as romanticized by [Ned] Buntline, [Bret] Harte, and [Mark] Twain. It was ever the stuff of legend."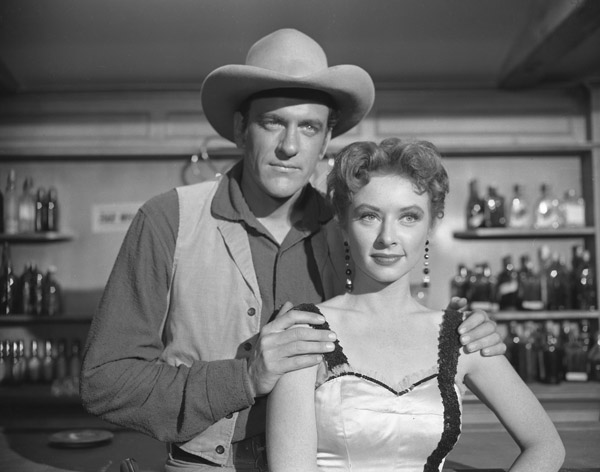 When Gunsmoke was adapted for television in 1955, in spite of a campaign to persuade the network, the network was not interested in bringing either Conrad or his radio costars to the television medium. Conrad's weight was rumored to be a deciding factor. Denver Pyle was also considered for the leading role, as was Raymond Burr, who was ultimately also seen as too heavy for the part. Charles Warren, television Gunsmoke's first director, said "His voice was fine, but he was too big. When he stood up, his chair stood with him." According to Dennis Weaver's comments on the 50th Anniversary DVD, Disc One, Episode "Hack Prine", John Wayne was never considered for the role; to have done so would have been preposterous since Wayne was a top movie leading man. The belief that Wayne was asked to star is disputed by Warren. Although he agrees Wayne encouraged Arness to take the role, Warren says, "I hired Jim Arness on the strength of a picture he's done for me ... I never thought for a moment of offering it to Wayne."[20]
According to Thomas "Duke" Miller, a TV/movie/celebrity expert, this story was told to him by legendary actor James Stewart: "Jimmy said he was in the office with Charles Warren when Mr. Wayne came in. Mr. Warren asked Wayne if he knew James Arness, and Mr. Wayne said yes. Mr. Warren told Mr. Wayne about the transition of the show from radio to TV, and Mr. Wayne readily agreed that James Arness would be a terrific choice for the part of Matt Dillon. I have no reason to doubt the story, because Jimmy absolutely knew everybody."
In the end, the primary roles were all recast, with Arness taking the lead role of Marshal Matt Dillon (on the recommendation of Wayne, who also introduced the pilot); Dennis Weaver playing Chester Goode; Milburn Stone being cast as Dr. G. "Doc" Adams (later Galen "Doc" Adams); and Amanda Blake taking on the role of Miss Kitty Russell. Macdonnell became the associate producer of the TV show and later the producer. Meston was named head writer.
Good evening. My name's Wayne. Some of you may have seen me before; I hope so. I've been kicking around Hollywood a long time. I've made a lot of pictures out here, all kinds, and some of them have been Westerns. And that's what I'm here to tell you about tonight: a Western—a new television show called Gunsmoke. No, I'm not in it. I wish I were, though, because I think it's the best thing of its kind that's come along, and I hope you'll agree with me; it's honest, it's adult, it's realistic. When I first heard about the show Gunsmoke, I knew there was only one man to play in it: James Arness. He's a young fellow, and maybe new to some of you, but I've worked with him and I predict he'll be a big star, so you might as well get used to him, like you've had to get used to me! And now I'm proud to present my friend Jim Arness in Gunsmoke.
— John Wayne, first Gunsmoke TV episode, "Matt Gets It".
1 1 "Matt Gets It" Charles Marquis Warren Screenplay by: Charles Marquis Warren
Story by: John Meston September 10, 1955
United States Marshal Matt Dillon (James Arness) of Dodge City must deal with fast trigger-happy outlaw Dan Grat (Paul Richards) who wants his way with the town.