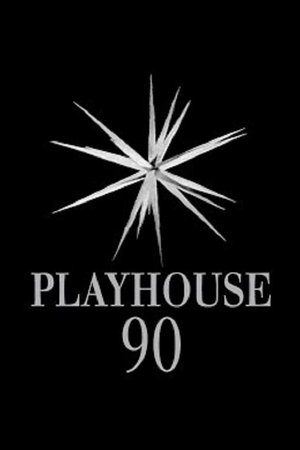 DIRECT LINK:
https://www.bing.com/videos/search?q=playhouse+90+stalin&&view=detail&mid=613FF25768487515ECD9613FF25768487515ECD9&&FORM=VDRVRV
Playhouse 90 is an American television anthology drama series that aired on CBS from 1956 to 1960 for a total of 133 episodes. The show was produced at CBS Television City in Los Angeles, California. Since live anthology drama series of the mid-1950s usually were hour-long shows, the title highlighted the network's intention to present something unusual: a weekly series of hour-and-a-half-long dramas rather than 60-minute plays.
The Plot to Kill Stalin Season 3 Episode 1 25 September 1958
In late 1952, an aging and increasingly paranoid Stalin puts in motion a purge against his doctors, with antisemitic overtones. His lackeys, including Khrushchev, Molotov and Beria, fear it will spread to the Politburo, and plan to strike first.
Joseph Vissarionovich Stalin (18 December 1878 – 5 March 1953) was a Georgian-born Soviet revolutionary and political leader. Governing the Soviet Union as its dictator from the mid-1920s until his death in 1953, he served as General Secretary of the Central Committee of the Communist Party of the Soviet Union from 1922 to 1952 and as Premier of the Soviet Union from 1941 to 1953. Ideologically a Marxist and a Leninist, Stalin helped to formalise these ideas as Marxism–Leninism while his own policies became known as Stalinism.
Stalin in 1911 mugshots taken by the Tsarist secret police.

Raised into a poor family in Gori, Russian Empire, as a youth Stalin joined the Marxist Russian Social Democratic Labour Party. He edited the party newspaper Pravda and raised funds for Vladimir Lenin's Bolshevik faction via robberies, kidnappings, and protection rackets. Repeatedly arrested, he underwent several internal exiles. After the Bolsheviks gained power in the October Revolution of 1917 and established the Russian Soviet Republic, Stalin sat on the governing Politburo during the Russian Civil War and helped form the Soviet Union in 1922. Despite Lenin's opposition, Stalin consolidated power following the former's death in 1924. During Stalin's tenure, "Socialism in One Country" became a central concept in Soviet society, and Lenin's New Economic Policy was replaced with a centralised command economy, industrialisation and collectivisation. These rapidly transformed the country into an industrial power, but disrupted food production and contributed to the famine of 1932–33, particularly affecting Ukraine. To eradicate those regarded as "enemies of the working class", from 1934 to 1939 Stalin organised the "Great Purge" in which hundreds of thousands—including senior political and military figures—were interned in prison camps, exiled, or executed.
Stalin on building of Moscow-Volga canal. It was constructed from 1932 to 1937 by Gulag prisoners.

Stalin's government promoted Marxism–Leninism abroad through the Communist International and supported anti-fascist movements throughout Europe during the 1930s, particularly in the Spanish Civil War. However, in 1939 they signed a non-aggression pact with Nazi Germany, resulting in their joint invasion of Poland. Germany ended the pact by invading the Soviet Union in 1941. Despite initial setbacks, the Soviet Red Army halted the German incursion and captured Berlin in May 1945, ending World War II in Europe. The Soviets annexed the Baltic states and helped establish pro-Soviet Marxist–Leninist governments throughout Eastern Europe. The Soviet Union and the United States emerged as the two world superpowers, and a period of tensions began between the Soviet-backed Eastern Bloc and U.S.-backed Western Bloc known as the Cold War. Stalin led his country through its post-war reconstruction, during which it developed a nuclear weapon in 1949. In these years, the country experienced another major famine and a period of antisemitism, which reached its peak in the 1952–1953 Doctors' plot. Stalin died in 1953 and was succeeded by Nikita Khrushchev, who denounced his predecessor and initiated a de-Stalinisation process throughout Soviet society.
The Big Three: Stalin, U.S. President Franklin D. Roosevelt, and British Prime Minister Winston Churchill at the Tehran Conference, November 1943

Widely considered one of the 20th century's most significant figures, Stalin was the subject of a pervasive personality cult within the international Marxist–Leninist movement, for whom Stalin was a champion of socialism and the working class. Since the fall of the Soviet Union, Stalin has retained popularity in Russia and Georgia as a victorious wartime leader who established the Soviet Union as a major world power. Conversely, his autocratic government has been widely condemned and vilified for overseeing mass repressions, hundreds of thousands of executions and millions of non-combatant deaths through his policies.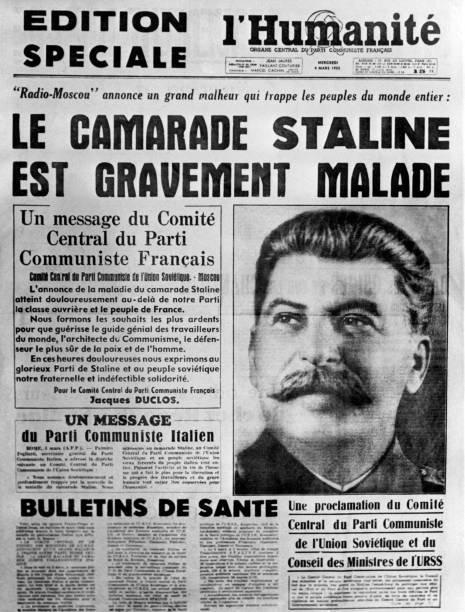 The Doctors' plot (Russian: дело врачей, "doctors' case", врачи-вредители, "doctors-saboteurs" or врачи-убийцы, "doctors-killers") was an episode of antisemitism in the Soviet Union under Joseph Stalin's regime. In 1952–1953, a group of prominent Moscow doctors (predominantly Jews) were accused of conspiring to assassinate Soviet leaders.[1] This was later accompanied by publications of anti-Semitic character in the media, which talked about the threats of Zionism and condemned people with Jewish names. Many doctors, officials and others, both Jews and non-Jews, were promptly dismissed from their jobs and arrested. A few weeks after the death of Stalin, the new Soviet leadership stated a lack of evidence and the case was dropped. Soon after, the case was declared to have been fabricated.