A chilling insight into the 'future.' I imagine the technology is here already. Your chip is ready. Are you? 
DIRECT LINK:
http://vidto.me/cdxr5g6bscxz.html
http://www.gowatchfreemovies.to/tv-29aa21-Black-Mirror-tv-show-online-free-putlocker.html/season-1-episode-3
Black Mirror is a British science fiction anthology television series created by Charlie Brooker, with Brooker and Annabel Jones serving as the programme showrunners. It examines modern society, particularly with regard to the unanticipated consequences of new technologies. Episodes are standalone, usually set in an alternative present or the near future, often with a dark and satirical tone, though some are more experimental and lighter.
Black Mirror was inspired by older anthology shows like The Twilight Zone, which were able to deal with controversial, contemporary topics without fear of censorship. Brooker developed Black Mirror to highlight topics related to humanity's dependency on technology, creating stories that feature "the way we live now – and the way we might be living in 10 minutes' time if we're clumsy."
Conception and style
Charlie Brooker had completed production of Dead Set, a zombie-based drama series, and while working on Newswipe and other programmes, had decided that he wanted to make another drama series, in an anthology style like The Twilight Zone, Tales of the Unexpected, and Hammer House of Horror. Brooker recognized that Rod Serling had written episodes of The Twilight Zone using contemporary issues, often controversial such as racism, but placing them in fictional settings as to get around television censors at the time. For Brooker, he realised he could do similar commentary on modern issues, and specifically focusing on mankind's dependency on technology, something he encountered while producing the series How TV Ruined Your Life. Brooker pulled the series' title from this approach: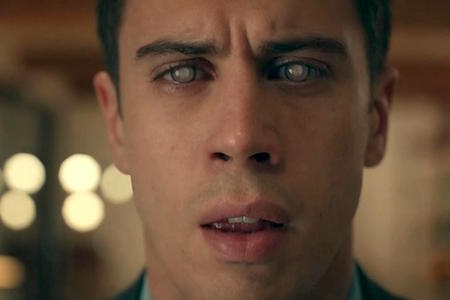 "If technology is a drug – and it does feel like a drug – then what, precisely, are the side effects? This area – between delight and discomfort – is where Black Mirror, my new drama series, is set. The 'black mirror' of the title is the one you'll find on every wall, on every desk, in the palm of every hand: the cold, shiny screen of a TV, a monitor, a smartphone."
Brooker wanted to keep the anthology approach, using new stories, settings, characters and actors for each episode, as he felt this approach was a key element of enjoying shows like The Twilight Zone; he said "There was a signature tone to the stories, the same dark chocolate coating – but the filling was always a surprise." This approach would allow Black Mirror to contrast with current dramas and serials that had a standard recurring cast. According to Brooker, the production team considered giving the series a linking theme or presenter, but ultimately it was decided not to do so: "There were discussions. Do we set them all in the same street? Do we have some characters who appear in each episode, a bit Three Colours: Blue/White/Red style? We did think about having a character who introduces them, Tales from the Crypt style, or like Rod Serling or Alfred Hitchcock or Roald Dahl, because most anthology shows did have that... but the more we thought about it, we thought it was a bit weird."
3 3 "The Entire History of You" Brian Welsh Jesse Armstrong 18 December 2011 
People have implanted a "grain" behind their ear, which allows them to record everything they see and hear. Using a remote, a user can perform a "re-do", playing back their memories directly to their eye or to a video monitor. At a dinner party, Liam is suspicious of his wife Ffion's behaviour towards a man named Jonas. Returning home, Ffion admits that she used to be in a relationship with him. The next morning, Liam drunkenly heads to Jonas' house and forces him to delete every memory of sexual intercourse he had with Ffion. In the memories appearing on the monitor, Liam notices one from the time when he and Ffion were already in a relationship. Liam, afraid that he might not be the real father to his child, returns home and demands that Ffion shows him the re-do of that specific sexual encounter, in order to prove that they had used a condom. The re-do verifies that the two of them had unprotected sex. Sometime later, having been left alone in his house, Liam goes to the bathroom and uses a razor blade to cut out the grain from behind his ear.
Starring: Toby Kebbell and Jodie Whittaker.
Would YOU have a Netflix chip implanted in your head? Firm shows off 'Project Vista' ad inspired by Black Mirror's dark view of the future
Netflix has an idea that will let its members binge watch their favorite content anywhere and anytime. The streaming platform revealed a bizarre chip and lens system that's implanted into the back of your head and with one tap, Netflix will stream programs right onto your eyes