DIRECT LINK:
https://vidzi.tv/0dugp3foex32.html
http://www.watchfree.to/tv-2a75b1-Designated-Survivor-tv-show-online-free-putlocker.html/season-1-episode-8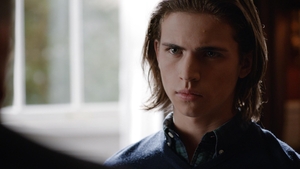 Designated Survivor is an American political drama television series created by David Guggenheim, and starring Kiefer Sutherland, airing on ABC. The project skipped the pilot stage and was ordered straight to series on December 14, 2015, followed by a formal announcement on May 6, 2016. The first season premiered on September 21, 2016, with a full season order of 22 episodes coming eight days later.
Plot
On the night of the State of the Union address, an explosion claims the lives of the President and all members of his Cabinet except for U.S. Secretary of Housing and Urban Development Tom Kirkman, who has been named the designated survivor. Kirkman is immediately sworn in as President, unaware that the attack is just the beginning of what is to come.
8 8 "The Results" Chris Grismer Paul Redford & Sang Kyu Kim November 30, 2016
It's the day before the elections for the House of Representatives, the act which Tom sees as an important step in getting the running of government back in proper working order, both in reality and in the public mindset. However, something that happens in the Kansas City area threatens the elections. Even if the investigators at the Department of Homeland Security are able to discover the person or organization behind what is happening in Kansas City, Tom has to weigh the pros and cons of holding the elections based on the perception and reality of public safety. Meanwhile, the White House press corps has gotten wind that Majid Nassar was murdered in custody, something that Tom told Seth to confirm if the question was ever directly asked. Part of the fallout of that news for Tom is dealing with Kimble, who Tom had not previously told, as he wanted to have the details behind the assassination first. That places Jason on the hot seat, he who is dealing with what to do about his meeting with the mysterious and calculating dark-haired woman, who has Luke and is threatening to kill him if Jason doesn't follow her orders. Hannah, who can tell that Jason is dealing with something out of the ordinary, latches on to what she believes is Jason's code for help. Hannah hopes to provide that help with Chuck's assistance. She believes the key is the unknown person who first pointed her in the direction of Room 105 and MacLeish working for the other side. And rumor gets to Leo about Tom possibly not being his biological father. This rumor may threaten the Kirkman family, as well as Seth's professional and burgeoning personal relationship with Lisa Jordan.