DIRECT LINK:
http://www.watchfree.to/tv-27d9bb-The-Borgias-tv-show-online-free-putlocker.html/season-2-episode-5
https://thevideobee.to/jiqhe8eptcu6.html
Use an ad blocker for the popups. I use McAfee. 
The Borgias is a historical-fiction drama television series created by Neil Jordan; it debuted in 2011 and was canceled in 2013.
The series is set around the turn of the 16th century and follows the Borgia family. It stars Jeremy Irons as Pope Alexander VI with François Arnaud as Cesare, Holliday Grainger as Lucrezia and David Oakes as Juan. Colm Feore also stars as Cardinal della Rovere.
The series follows the rise of the Borgia family to the pinnacle of the Roman Catholic Church and their struggles to maintain their grip on power. The beginning of the first season depicts the election of Rodrigo Borgia to the papacy through simony and bribery, with the help of his sons, Cesare and Juan. Upon winning the election, Rodrigo Borgia becomes Pope Alexander VI, which then thrusts him and his family deep into the murky heart of politics in fifteenth-century Europe: from shifting loyalties within the College of Cardinals to the ambitions of the kings of Europe to the venomous rivalries between the noble families of Italy at the time.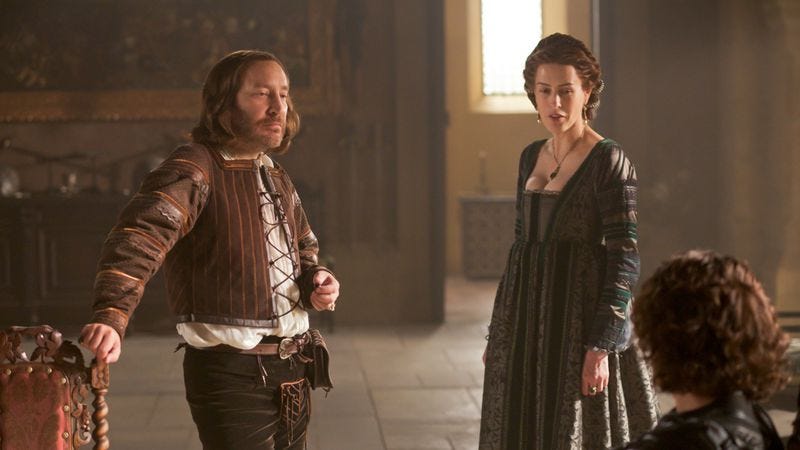 14 5 "The Choice" Kari Skogland Neil Jordan May 6, 2012 
With the French defeated, the Pope rides to Florence to silence Savonarola while Cesare departs for Forli to deal with Caterina Sforza. While in Florence, the Pope meets with Piero de Medici and Machiavelli to discuss ways to get rid of Savonarola. After returning to Rome the roof of the church collapses during Communion and is interpreted as a sign of God's displeasure. Cesare delivers a message to Caterina to either come to Rome and bow to the Pope willingly or in chains. After deliberating with Giovanni Sforza, she refuses. Cesare makes good his promise and kills Giovanni and barely escapes Forli. Della Rovere meets with Savonarola again to receive his blessing for the murder of the Pope. Receiving such he returns to the Abbey where he recruits a young monk named Antonello to become the Pope's taster and poison him. Micheletto returns to his ancestral home and reconnects intimately with a man from his past.