The Invaders is an American science fiction television program created by Larry Cohen that aired on ABC for two seasons, from January 10, 1967 to March 26, 1968. Dominic Frontiere, who had provided scores for Twelve O'Clock High and The Outer Limits, provided scores for The Invaders as well.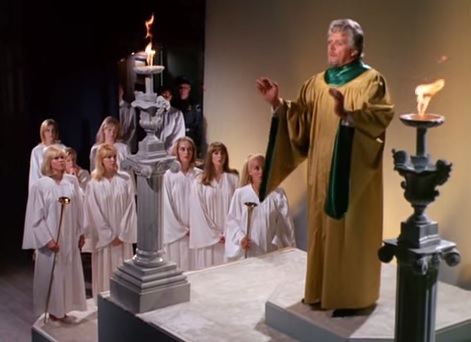 The series was a Quinn Martin Production (Season One was produced in association with the ABC Television Network - or as it was listed in the end credits, "The American Broadcasting Company Television Network").
11 "The Prophet" November 14, 1967
David Vincent arrives at an evangelical meeting in order to investigate a 'prophet' who apparently glows red in similar fashion to that of dying aliens. The prophet Brother Avery (Pat Hingle) does indeed put on a glowing display but is led away by fellow aliens under the watchful eye of Brother John (Richard O'Brien) to a regeneration van parked outside of the backstage area. As Vincent tries to get close he is diverted away to a safe distance by 'security' guards. Vincent contacts a local journalist Bill Shay (Roger Perry) who, unknown to Vincent, is an alien and who warns Brother John. Vincent also seeks to infiltrate the faithful by introducing himself to Sister Claire (Zina Bethune).
As the next service starts Brother John lures Vincent to a supposed Saucer landing site, but he is shot and killed by Vincent whilst trying to run him over. Later Vincent tries to get into Brother Avery's caravan quarters but is interrupted by Sister Claire, who will hear none of Vincent's wild ideas about aliens. David persists, however, and she eventually gets him the keys of the regeneration van. Once inside Vincent takes photos of the alien equipment, but meanwhile Brother Avery has suspected Sister Claire and orders her death. Alien journalist Bill Shay is sent to capture Vincent, but Vincent realizes that he is an alien and offers the photo-film for Sister Claire's safety. However, on returning to the stage hall, Vincent breaks free, kills Shay and other aliens and destroys the electrical power lines to the regeneration van. Brother Avery, realizing that his future is now threatened, takes his own life.