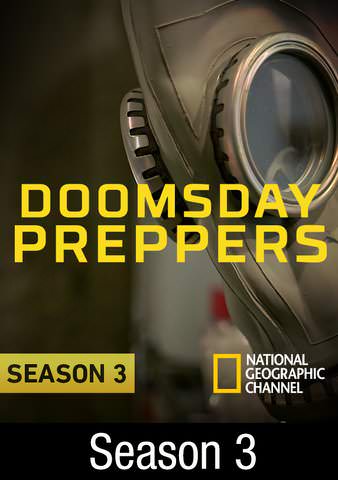 DIRECT LINK:
http://vidzi.tv/ivv7mv8597u1.html
http://hd.today/watch/xyPb0MDv-doomsday-preppers-season-3/episode-1.html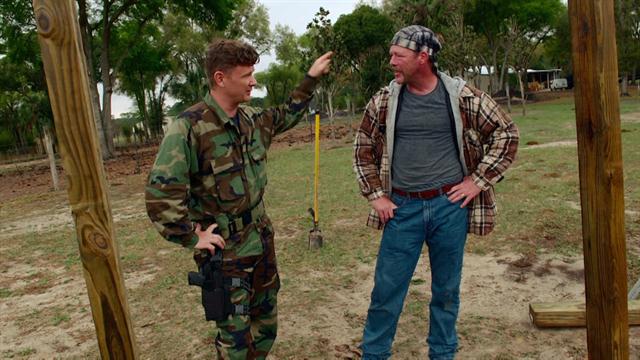 Doomsday Preppers was an American reality television series that aired on the National Geographic Channel. The program profiles various survivalists, or "preppers", who are preparing to survive the various circumstances that may cause the end of civilization, including economic collapse, societal collapse, and electromagnetic pulse. The quality of their preparations is graded by the consulting company Practical Preppers, who provide analysis and recommendations for improvements.
S3 EP1 Don't Betray the Colony
Some preppers believe in safety in numbers -- as is the case for Jeff Mann, who leads "the Colony," a community of 25 preppers unified with the single purpose of surviving doomsday. Watch as he prepares his son, Colten, to take the reins by having him hunt down live boar in the Florida swamps and builds the Colony's very own gallows -- an important message that there are laws to be upheld, even in times of chaos.
After digging out the land for his bunker, one prepper decided to simply bury his RV right in the middle of the space.
In the last part of Tuesday's show, viewers were introduced to 27-year-old Cheree and her parents Jessica and Carl. They own and operate a 21-acre Christian camp in the foothills of the California's Sierra Mountains. Cheree is concerned about a mega-earthquake striking the area, and wishes to follow in Christ's footsteps and take care of disaster victims after the event. Very noble.
While hosting friends and family from the Bay area for a disaster aftermath dry-run, viewers are informed that Cheree adheres to a strict policy of non-violence and no weapons. The problem is, one of their group, Garry, wants a firearm for protection. He explained:
In a critical scenario, where you have people scrambling for food, for water, for shelter, for whatever. If they want it, and they have weapons, they're going to take it. So, in that respect, I have to take appropriate action.
Cheree sticks to her guns, and "Garry is voted out of the group, and asked to leave the premises."
Jesus said,
He said to them, "But now if you have a purse, take it, and also a bag; and if you don't have a sword, sell your cloak and buy one. It is written: 'And he was numbered with the transgressors'; and I tell you that this must be fulfilled in me. Yes, what is written about me is reaching its fulfillment." The disciples said, "See, Lord, here are two swords." "That's enough!" he replied.
— Gospel of Luke 22:36-38, NIV
Douay-Rheims Bible
If a thief be found breaking open a house or undermining it, and be wounded so as to die: he that slew him shall not be guilty of blood.
Exodus 22:2

Where violence is a last resort in conflict it is an option that must be on the table. It is scripturally sound to protect life and property. It is also morally the duty of the head of the house to do so. 
Douay-Rheims Bible
But if any man have not care of his own, and especially of those of his house, he hath denied the faith, and is worse than an infidel.
1 Timothy 5:8
Prepping is a Christian duty. So is protecting the flock. The only thing about people like Cheree is there are extreme criminals who will seriously pray on the helpless. Dying may be your quick way to heaven to avoid your responsibilities, but what if they don't kill you and decide to keep you to torture for amusement. That has been the human condition. One of my 'georgisms' was you know why they don't burn witches anymore? It is because of the invention of the repeating firearm. There will be no 911. You will be on your own. After you learn the lessons of evil, it will be too late. You need a firearm to forage for food and as a last case scenario to protect the flock. Jeff failed the checkpoint scenario, but then he was alone anyway. 
I would say the gallows was a poor idea in a close knit group picked to work together. I sincerely doubt you'd have to hang one. If a major transgression occurred banishment seems appropriate. But power goes to people's heads. So I think I'd rather be in the trailer underground. 
You don't even want to know what happened to white farmers in Africa as they were forced to abandon the land.
Husband of woman tortured in South Africa robbery speaks about horrific ordeal
A retired mechanical engineer from Belfast in Northern Ireland, who was tortured with a blow torch by a gang of robbers before being shot in the neck in eastern South Africa, says he is battling to understand why the men had to murder his animal-loving British wife.
Robert Lynn, 66, whose legs and arms were covered with stab wounds, burns, bruises and stitches, told The Telegraph how and his wife Sue Howarth, 64, were asleep in bed in their house near the trout fishing village of Dullstroom when two gun shots went off at around 2.10 am last Sunday.
Sue Howarth died in hospital a few days after the attack
2015 a 'record' year for farm attacks – and murders
I imagine she wishes she was wounded in Manchester. There's not a mark on any of them save the mark of the beast. 
It is politically incorrect to speak of these crimes. Murdering people because of their race isn't racism. Reporting it is.
Please learn to shoot and take your security seriously.