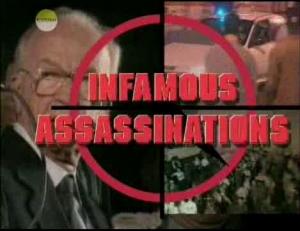 DIRECT LINK: https://estream.to/mr1f2lwci38j.html
As he entered St. Peter's Square to address an audience on 13 May 1981, Pope John Paul II was shot and critically wounded by Mehmet Ali Ağca, an expert Turkish gunman who was a member of the militant fascist group Grey Wolves. The assassin used a Browning 9 mm semi-automatic pistol, shooting the pope in the abdomen and perforating his colon and small intestine multiple times. John Paul II was rushed into the Vatican complex and then to the Gemelli Hospital. On the way to the hospital, he lost consciousness. Even though the two bullets missed his mesenteric artery and abdominal aorta, he lost nearly three-quarters of his blood. He underwent five hours of surgery to treat his wounds. Surgeons performed a colostomy, temporarily rerouting the upper part of the large intestine to let the damaged lower part heal. When he briefly regained consciousness before being operated on, he instructed the doctors not to remove his Brown Scapular during the operation. One of the few people allowed in to see him at the Gemelli Clinic was one of his closest friends philosopher Anna-Teresa Tymieniecka, who arrived on Saturday 16 May and kept him company while he recovered from emergency surgery. The pope later stated that Our Lady of Fátima helped keep him alive throughout his ordeal.
Could I forget that the event in St. Peter's Square took place on the day and at the hour when the first appearance of the Mother of Christ to the poor little peasants has been remembered for over sixty years at Fátima, Portugal? For in everything that happened to me on that very day, I felt that extraordinary motherly protection and care, which turned out to be stronger than the deadly bullet.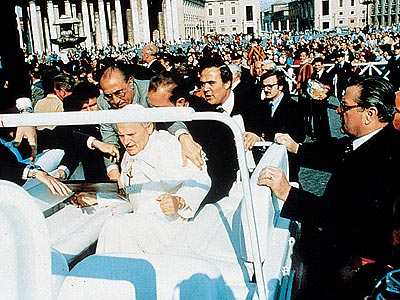 Ağca was caught and restrained by a nun and other bystanders until police arrived. He was sentenced to life imprisonment. Two days after Christmas in 1983, John Paul II visited Ağca in prison. John Paul II and Ağca spoke privately for about twenty minutes. John Paul II said, "What we talked about will have to remain a secret between him and me. I spoke to him as a brother whom I have pardoned and who has my complete trust.″
On 2 March 2006 the Italian parliament's Mitrokhin Commission, set up by Silvio Berlusconi and headed by Forza Italia senator Paolo Guzzanti, concluded that the Soviet Union was behind the attempt on John Paul II's life, in retaliation for the pope's support of Solidarity, the Catholic, pro-democratic Polish workers' movement, a theory that had already been supported by Michael Ledeen and the United States Central Intelligence Agency at the time. The Italian report stated that Communist Bulgarian security departments were utilised to prevent the Soviet Union's role from being uncovered. The report stated that Soviet military intelligence (Glavnoje Razvedyvatel'noje Upravlenije), not the KGB, were responsible. Russian Foreign Intelligence Service spokesman Boris Labusov called the accusation "absurd". The Pope declared during a May 2002 visit to Bulgaria that the country's Soviet-bloc-era leadership had nothing to do with the assassination attempt. However, his secretary, Cardinal Stanisław Dziwisz, alleged in his book A Life with Karol, that the pope was convinced privately that the former Soviet Union was behind the attack. It was later discovered that many of John Paul II's aides had foreign-government attachments; Bulgaria and Russia disputed the Italian commission's conclusions, pointing out that the Pope had publicly denied the Bulgarian connection.
A second assassination attempt was made on 12 May 1982, just a day before the anniversary of the first attempt on his life, in Fátima, Portugal when a man tried to stab John Paul II with a bayonet. He was stopped by security guards. Stanisław Dziwisz later said that John Paul II had been injured during the attempt but managed to hide a non-life-threatening wound. The assailant, a traditionalist Catholic Spanish priest named Juan María Fernández y Krohn, had been ordained as a priest by Archbishop Marcel Lefebvre of the Society of Saint Pius X and was opposed to the changes made by the Second Vatican Council, claiming that the pope was an agent of Communist Moscow and of the Marxist Eastern Bloc. Fernández y Krohn subsequently left the priesthood and served three years of a six-year sentence. The ex-priest was treated for mental illness and then expelled from Portugal to become a solicitor in Belgium.
The Al-Qaeda-funded Bojinka plot planned to kill John Paul II during a visit to the Philippines during World Youth Day 1995 celebrations. On 15 January 1995 a suicide bomber was planning to dress as a priest and detonate a bomb when the Pope passed in his motorcade on his way to the San Carlos Seminary in Makati City. The assassination was supposed to divert attention from the next phase of the operation. However, a chemical fire inadvertently started by the cell alerted police to their whereabouts, and all were arrested a week before the Pope's visit, and confessed to the plot.
In 2009 John Koehler, a journalist and former army intelligence officer, published Spies in the Vatican: The Soviet Union's Cold War Against the Catholic Church. Mining mostly East German and Polish secret police archives, Koehler says the assassination attempts were "KGB-backed" and gives details. During John Paul II's papacy there were many clerics within the Vatican who on nomination, declined to be ordained, and then mysteriously left the church. There is wide speculation that they were, in reality, KGB agents.
Banco Ambrosiano scandal
Pope John Paul was alleged to have links with Banco Ambrosiano, an Italian bank that collapsed in 1982. At the centre of the bank's failure was its chairman, Roberto Calvi, and his membership in the illegal Masonic Lodge Propaganda Due (aka P2). The Vatican Bank was Banco Ambrosiano's main shareholder, and the death of Pope John Paul I in 1978 is rumoured to be linked to the Ambrosiano scandal.
Calvi, often referred to as "God's Banker", was also involved the Vatican Bank, Istituto per le Opere di Religione, in his dealings, and was close to Bishop Paul Marcinkus, the bank's chairman. Ambrosiano also provided funds for political parties in Italy, and for both the Somoza dictatorship in Nicaragua and its Sandinista opposition. It has been widely alleged that the Vatican Bank provided money for Solidarity in Poland.
Calvi used his complex network of overseas banks and companies to move money out of Italy, to inflate share prices, and to arrange massive unsecured loans. In 1978, the Bank of Italy produced a report on Ambrosiano that predicted future disaster. On 5 June 1982, two weeks before the collapse of Banco Ambrosiano, Calvi had written a letter of warning to Pope John Paul II, stating that such a forthcoming event would "provoke a catastrophe of unimaginable proportions in which the Church will suffer the gravest damage". On 18 June 1982 Calvi's body was found hanging from scaffolding beneath Blackfriars Bridge in the financial district of London. Calvi's clothing was stuffed with bricks, and contained cash valued at US$14,000, in three different currencies
https://en.wikipedia.org/wiki/Banco_Ambrosiano
http://www.bibliotecapleyades.net/vatican/esp_vatican117.htm
The CIA also used these banks as conduit to funnel money in concert with the Solidarity Trade Union in the communist era in Poland. That was the primary reason behind the London 7/7 plot. Victim Giles Hart on the bus was instrumental in the movement of said funds. He was knighted in Poland and murdered in London like Calvi. 
The Mysterious Demolition Truck On London's 7/7