The games have begun. NATO is bombing Syrian military forces not their proxy army ISIS. How long will we have to wait? Will the 24 hour war prophesied by Saint Kosmas occur for the solstice sacrifice? And what of Damascus? Let those with the eyes to see and the ears to hear take heed. There is a great storm approaching. Is time on our side? We will assess the risks. Join us lest the day arrives sooner.
The Biblical battles surrounding Hanukkah. Mona Lisa conceals another smile. Bridge of Spies all lies according to original kidnap victim. San Berdardino shooting. The devout Muslim. His terrorist connections. We base these lies on further deceits. The drills. The details. Method acting for the camera. Assault weapons ban ready for massacre. Planned Parenthood sells body parts. Liberty University concealed carry for all. DHS researcher primary target. RED DAWN ISLAM! Pentagon preparing for insurrection. That includes creating manipulated events. Toronto terror weapons compromised. Ten worst cities RECAP Bangui sectarian violence. Divide and conquer made in Germany. WWIII dawns. Turkey's ISIS trade. Where's the proof? Sibel Edmonds warned us in 2011. Russian sorties. The Israel connection. Gang voting. Karma wave floods UK. Arms industry profits. U.S. gives Russia intelligence coup. NATO bombs Syrian base. Russian/Turkish ship seizures. USS Harry S. Truman on station. Russia's super torpedo. Poland wants nukes. The Kaliningrad salient reinforced with nukes. Russian satellite launch fails. U.S. warns Russia about defending bombers. Russia completes Arctic bases. Russian built sub sinks USS City of Corpus Christi in maneuvers. Mali terror attack on Russians and Chinese. Pentagon blows $150 million on Afghani villas. ISIS moves into Afghanistan. Ukraine presses Crimean border. Biden to Kiev. Supplied equipment dated. Anonymous leaks climate documents. Polio in Ukraine. Boy dies. Charges for giving pigs water. Collapse indicators. Banks sued by pension fund over rigged derivative market. Mexico facing default. Corporate debt distress. Brazil Depression. 27 major markets collapse. All is well. Europa not so grand. Man talk on good women. On Conspiracy Cafe Prophecy is Blowing in the WIND! You can feel it.
CRIME SCENE ONE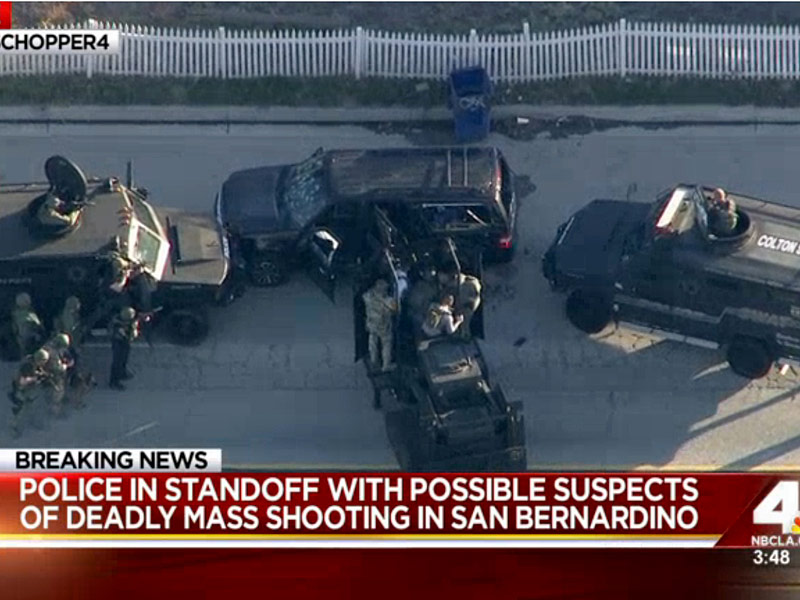 CRIME SCENE TWO. SAME VEHICLE DIFFERENT LOCATIONS. WHICH ONE IS REAL? WHICH ONE IS MEMOREX?
If the body was laid out on the street at Crime Scene Two, then how did the truck get to Crime Scene One? If Crimes Scene One is legitimate, then how did the shooters get to Crime Scene Two? 
One of the rifles was actually purchased by the police department. Rule number one in a frame job never plant a police gun on a perp. 
| | |
| --- | --- |
| Posted by George Freund on December 9, 2015 at 9:18 AM | 2701 Views |