The Classic H&R Sportsman 999 .22 Revolver
By: Eric Nestor November 8, 2014
This old classic .22 revolver just keeps on being a great hunting and target shooting gun, even though it has been discontinued for years.
In 1871, the Harrington and Richardson gun company was formed. The H&R Sportsman Model 999 revolver was made for about half a century, though has been discontinued for close to a quarter century.
This all steel revolver is spoken of fondly in the shooting community, and has attained a cult like following for sure. Here is why.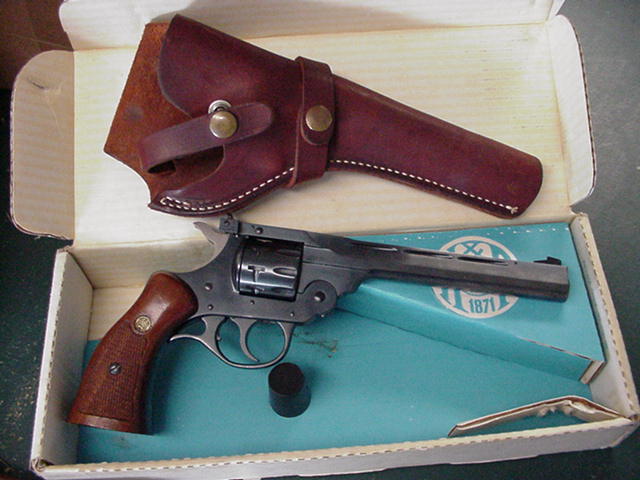 Features
The revolver has a unique loading and unloading feature. A lever at the rear sight is lifted, and the revolver opens up on a hinge in which a spring loaded extractor removes all nine spent casings with quite a fling.
Yes, this gun holds nine rounds of your choice of .22 short, long or long rifle cartridges. The beauty of a revolver is that it can function with any velocity and power level, and is not dependent on cartridge pressures to function, such as an autoloading pistol. Rugged reliability is the name of the game with this classic beauty.
The H&R Sportsman Model 999 was available in different configurations and barrel lengths through out its manufacturing life. There were previous models made by Harrington and Richardson before the Model 999 was ever made, and the 999 used many features that were fine tuned in previous models, such as the unique tip up cylinder reloading feature.
Performance
Accuracy excels in accounts that I have found, along with my personal experience with this classic gun. The quick loading and the use of speedloaders keeps you shooting fast, and close to the level of a autoloading pistol for reloading speed.
Trigger pull on double action is stiff but predictable, and single action is much more manageable. This is my only complaint when shooting this vintage revolver.
On the 1980s manufactured revolver, there are adjustments for windage and elevation, which makes sighting in a breeze.
The Sportsman 999 revolver is perfect for hunting and for target fun, and you'll quickly see how unique and special the firearm is.
Here's a video showing its greatness.
https://www.youtube.com/watch?v=P38jMIRPcvk
I think for the money this would be a prepper's dream. 22 ammunition is light and cheap. You could pack a 500 round brick for a weight similar to a 50 round box of .45 ACP. It would be adequate for small game or protection where permitted. The antiques are frequently top breaks. In the old guns keeping the chamber under the hammer empty must be your religion. Modern safety devices weren't even considered. It is a fun gun to shoot to get lots of target practice and doesn't recoil. The price is very reasonable too.

| | |
| --- | --- |
| Posted by George Freund on October 8, 2015 at 10:17 PM | 3886 Views |