The global financial system was shaking the past week. There was panic in the air. The markets are exhibiting a wave pattern. The amplitude of the wave seems to be increasing. There has been a fast recovery. Should we celebrate or swing out the boats because the next decline could be worse and fracture the system. The Duke Kahanamoku Google Doodle the BIG WAVE! The La Tomatina Google Doodle FOOD FIGHT! Latest Russian deep sea vessel on point duty off Nova Scotia. Is it a forward observer for Russian submarine forces? Vlad says shirt front me Stephen I got nukes off your coast. U.S. to deploy Atlantic sub detection system. Whale die off in Alaska Fukushima rain or sonar activity. Operation NANOOK Canadian navy deployed north to Alaska. North Korea deploys 50 subs off coast. Fire mission DMZ. Business as usual. Mass fish die off near Tianjin. Russian and Chinese navies Joint Sea 2015. Drill fever getting contagious. Jets for Crimea. Ukraine war threat subsides. Poroshenko eats humble pie. Debt concessions are a fine desert. BUK missile systems deployed anyway. Tsipras resigns. Who is he? I forgot already. Light fakers alternative media deceive too. Virginia TV 'shooting.' Front page psy-ops. Alleged gunman had psychiatric issues. Victims on casting couch. How the fake unfolded. Mr. Robot TV show pulled over it. HMM? The KKK death ray plot. False flag staged terror on the train to Paris. He found the gun in the bushes honest. Canadian woman from the ISIS front says Harper playing us on terror. Gestapo for U.S. trains. PAPERS! PAPERS PLEASE! It's worse than you think. Out of time. It started with China. The DOW plummet. Capital flight the collapse catalyst. Central banks ineffective so far consider raising the limits to INFINITY & BEYOND! RED FLAG WARNING! Pensions tossed into the maelstrom. Central bank securities JUNK! Chinese billionaire says stop lying about growth. Bolivar worth less than napkin. If the trucks stop rolling. Mighty U.S. $ and the debt crisis. Canadian pension money given to crooked company in unsecured loan. Ashley Madison leak creates data wave. House of Commons Dept. of National Defense hooked. Jimmy Carter gets cancer. 9/11 victim dies from it. Possible buyer for Russian carriers. GM causes massive birth defects in Hawaii. NASA says we're safe. On Conspiracy Cafe It's Getting Rough.
They make them tough in Virginia. If there's a muzzle flash to be seen which is not seen in daylight by the way, the bullet would be in the target already. We are talking most likely of a muzzle velocity of around 1,200 feet per second. She should show the effect of the impact to be sure. To be able to take a hit like that at close range and run away is a testimony to the level of deception used by corporate media to establish a global police state. If you partake in the gun reviews on the Preparation page, you've seen watermelons shot with all manner of weapons. They exploded.
BOLIVAR WORTH LESS THAN A NAPKIN: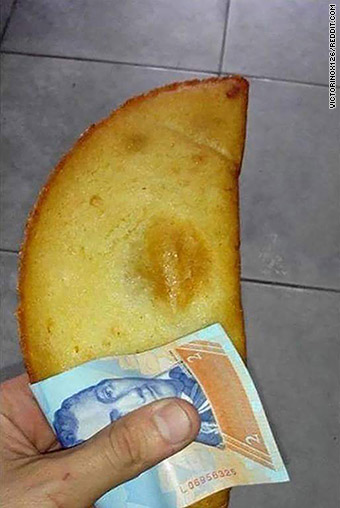 I've always said notes should be printed on toilet paper to have a minimum intrinsic value in inflationary times. Duce would prefer not to have his face wiped as an incentive to sound fiscal policy.
THE FUTURE OF TRAIN TRAVEL IN THE U.S.
RUSSIAN SHIP YANTAR ON FORWARD OBSERVER MISSION FOR NUKE STRIKE