The BIG hand is getting close to the LITTLE hand. It is approaching MIDNIGHT on two major FRONTS - the economy and the struggle for supremacy. Will you be prepared? Will you survive? Robots lauded for building robots. U.S. flag rises over Havana after 54 years. The Tianjin explosion facts versus fantasy. Massive explosion and fire in Moscow repressed. Missing airliner found in Papua. Russian helicopter crash almost takes out executive of VTB Leasing. Bangkok terror bombing outs Australian actor as suspect. His cryptic tattoo honors DEATH in Russian. Five Russians arrested in Kyiv in bomb plot. The capital flight kingdom. Yuan devaluation. Dumping assets. The Brazilian downward spiral a war on the BRICS perhaps. Peso crisis. Container exports plummet. Junk bonds hit hard. Off shore drillers sinking. Spain caught in the Free Trade web it supported. Spanish regulator mob central. Recession Canada. Canadian dollar image versus reality. Free Trade brought Canada a 35% increase in automotive jobs in MEXICO! VIVA HARPER! No grain reserves in America. Robots don't eat anyway. Saudi kingdom facing denouement in oil war. Lefty war on coal bankrupts industry. Ukrainian war front. Combat alert. US UK prepare the battlefield. Putin ready. America NOT! Significant fighting. The exercise conundrum. Sudairi Arabia the kingdom's power shift. Cotopaxi volcano stirring. Chinese hire doubles for incarceration. We are approaching The Stroke of Midnight on Conspiracy Cafe.
Jesus is Lord somewhere in Vladivostok not Detroit.
Bangkok terror bombing suspect outed as Australian actor Sunny Burns by fans.
THE RUSSIAN TRANSLATES INTO "DEATH IS ONLY THE BEGINNING" WITH THE RED SQUARE MOTIF AND PENTAGRAM STARS SUNNY BURNS HAS EXPLAINING TO DO.
What China's Huge Tianjin Explosion Looked Like From Space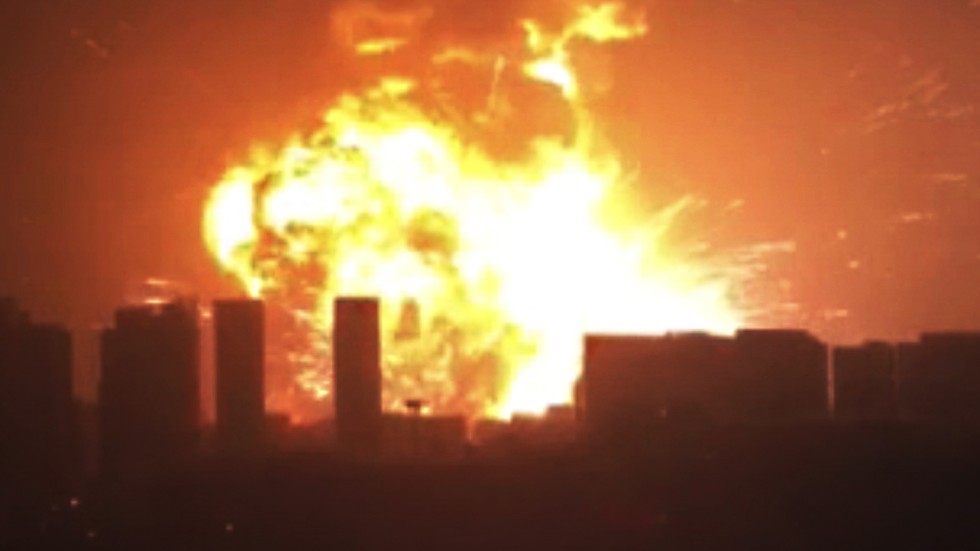 'Is this a nuclear bomb?': drone captures apocalyptic scenes in Tianjin, China, after industrial explosions