FULL MOVIE:
http://hd.today/watch/kvYaJNvb-the-blue-max.html
http://www1.putlockersfm.com/watch/the-blue-max-1966-online-putlockers.html

http://www.watchfree.to/watch-4c45-The-Blue-Max-movie-online-free-putlocker.html

The Blue Max is a 1966 British war film in DeLuxe Color and filmed in CinemaScope, about a German fighter pilot on the Western Front during World War I. It was directed by John Guillermin, stars George Peppard, James Mason and Ursula Andress, and features Karl Michael Vogler and Jeremy Kemp. The screenplay was written by David Pursall, Jack Seddon, and Gerald Hanley, based on the novel of the same name by Jack D. Hunter as adapted by Ben Barzman and Basilio Franchina.
Plot

German Corporal Bruno Stachel (George Peppard) leaves the fighting in the trenches to become an officer and fighter pilot in the German Army Air Service. Joining a squadron in spring 1918, he sets his sights on winning Imperial Germany's highest military decoration for valor, the Pour le Mérite, nicknamed the "Blue Max", for which he must shoot down 20 aircraft.
Of humble origins, Lieutenant Stachel is driven to prove himself better than the aristocratic pilots in his new fighter squadron, especially Willi von Klugermann (Jeremy Kemp). Their commanding officer, Hauptmann Otto Heidemann (Karl Michael Vogler) is an upper-class officer whose notions of chivalry conflict with Stachel's ruthless determination.
Soon afterward, Stachel is shot down after rescuing a red Fokker Dr.I attacked by two British fighters. When he returns to the airfield, he is stunned when he is introduced to the man he saved: Manfred von Richthofen (Carl Schell), the Red Baron. Von Richthofen offers Stachel a place in his squadron, which Stachel declines, explaining his desire to "prove himself" with his current squadron.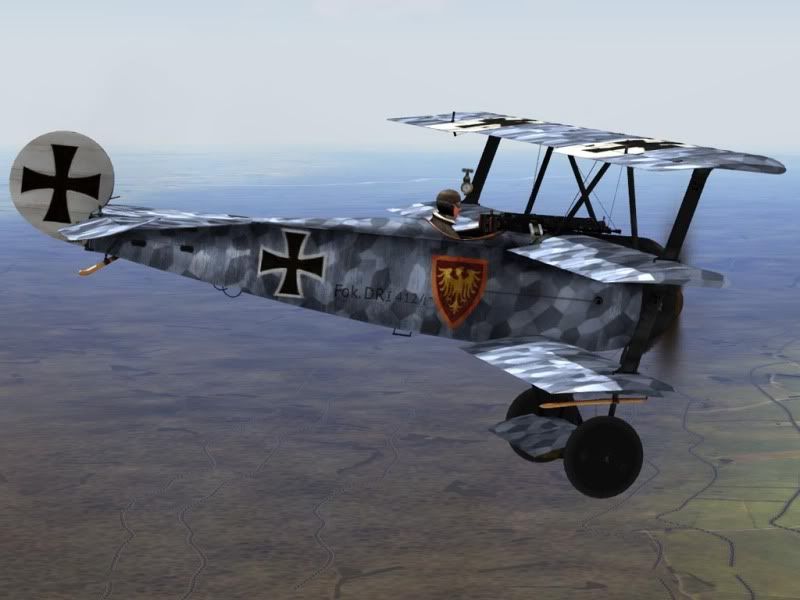 With Stachel temporarily grounded owing to a minor injury, General von Klugermann orders him to Berlin to help shore up crumbling public morale. Kaeti takes the opportunity to sleep with her latest hero.
When Stachel returns to duty, he and Willi von Klugermann volunteer to escort a reconnaissance aircraft. British fighters attack their Fokker Dr. 1 triplanes. Stachel's guns jam, but Willi downs two of the enemy on his first pass, then a third on Stachel's tail, and the rest disengage. As the two are returning to their base, Willi challenges Stachel, partly by executing a near-perfect barrel roll to return in formation with Stachel.[3] Spotting a bridge, Willi dives under the wide middle span, but Stachel tops him by flying under a much narrower side one. Seething, Willi does the same, but clips the top of a tower afterward and crashes. When Stachel reports his death, Heidemann assumes that the two verified victories were Willi's. Insulted, Stachel impulsively claims them, even though it is discovered that he only fired 40 bullets before his guns jammed. Outraged, Heidemann reports Stachel to his superiors, but is told that Stachel's victories will be confirmed. Later, alone with Kaeti, Stachel admits he lied.
During a strafing mission covering the retreat of the German army, Stachel disobeys Heidemann's order not to engage enemy fighters; one by one, the rest of the squadron follow him. Afterward, Heidemann has Stachel arrested, furious that nearly half the pilots were killed in the ensuing dogfight. Stachel cares only that he has shot down enough aircraft, even without Willi's kills, to qualify for the Blue Max. The two men are ordered to Berlin. There, von Klugermann tells Heidemann privately that Stachel is to receive the Blue Max, explaining that the people need a hero. Heidemann resigns his command when the general orders him to withdraw his report; he accepts a desk job.
CONTINUED AT WIKIPEDIA: