FULL MOVIE:
http://hd.today/watch/OvkrRAdQ-flyboys.html
http://www1.putlockersfm.com/watch/flyboys-2006-online-putlockers.html

Flyboys is a 2006 British-American war drama film set during World War I, starring James Franco, Martin Henderson, Jean Reno, Jennifer Decker, David Ellison, Abdul Salis, Philip Winchester, and Tyler Labine. It was directed by Tony Bill, a pilot and aviation enthusiast. The screenplay about men in aerial combat was written by Phil Sears, Blake T. Evans and David S. Ward with the screen story by Blake T. Evans. Themes of friendship, racial prejudice, revenge and love are also explored in the film.
The film follows the enlistment, training, and combat experiences of a group of young Americans who volunteer to become fighter pilots in the Lafayette Escadrille, the 124th air squadron formed by the French in 1916. The squadron consisted of five French officers and 38 American volunteers who wanted to fly and fight in World War I during the main years of the conflict, 1914?1917, before the United States later joined the war against the Central Powers. The film ends with an epilogue that relates each film character to the real-life Lafayette Escadrille figure on whom the movie was based.
Plot
Prior to America's entrance into World War I, a group of young Americans go to France, for different personal reasons, to fight in the French Air Service, L'Aéronautique militaire. One of them, Blaine Rawlings, faced with the foreclosure of his family ranch in Texas, decides to enlist after seeing a newsreel of aerial combat in France. Dilettante Briggs Lowry joins because of his overbearing father. African-American boxer Eugene Skinner, who had been accepted as an athlete in France, was motivated to "pay back" his adopted country. Beagle, a notorious thief, burglar and mugger, evades capture due to a tip off about his arrest and leaves America for France, believing that even criminals are forgiven if he registers in the French Army. Porter, a former Church pastor suffering dwindling churchgoers, decides to enlist to become a chaplain, and Jamie, frustrated by American neutrality, decides to join the war. These American recruits are under the command of French Captain Georges Thenault, while the veteran fighter ace Reed Cassidy, a fellow American, a womanizer, drunkard and traumatized ace pilot, takes over as their mentor.
During their training, each pilot struggles with the demanding flying; later, they have to face the aerial dogfights that dominate the front line missions. Rawlings meets a young woman named Lucienne whom he courts despite her hesitations about his risky profession. [N 1]
On their first mission to escort two bombers to attack a German ammunition depot, the rookie pilots are ambushed by Germans and two are killed while flying; Jamie is forced to make an emergency landing. While on the ground Jamie is strafed and killed by the German ace The Black Falcon, who returns to altitude and is met by the more chivalrous German pilot Franz Wolferd who shakes his head in disapproval.
During a later battle, Rawlings' single machine gun jams; while he tries to clear the jam, Wolferd—the pilot whom he had been chasing prior to the jam—gets him in his sights. As Rawlings closes his eyes to await the end, Wolferd fires a short burst, not striking the American or his plane. The German ace then flies beside Rawlings, before saluting and banking away toward home, sparing his opponent's life. Jensen who is shot in the neck and horrified by the deaths of his fellow pilots goes into shock and is kept from flying for some time. Many days later, Beagle is discovered by French officials for his criminal record in the U.S., after Lowry suspects him of being a spy. Rawlings convinces Beagle to reveal his crime instead of being executed for espionage. It is revealed that Beagle, while in debt to a bookie, attempted to rob a bank with a toy gun. His fellow pilots decide to allow him to fly again.
Rawlings attempts to repay the debt on another day, when French civilians, assisted by French and British soldiers, are being strafed by German fighters. During the fight he has Wolferd in the perfect position to shoot him down. He lets the German go, but when Wolferd dives after another American, Rawlings is forced to chase and kill him. Soon after, Beagle is shot down and his right hand gets stuck in his plane, after he crashes in the middle of a trench battle. Rawlings lands and risks his life against German fire to save him. Rawlings is forced to amputate Beagle's arm to free him from the wreckage. After this, Rawlings is alarmed to learn that German forces are going to invade Lucienne's village. Despite others disapproving of his conduct, they let him go. He single-handedly rescues Lucienne and her two nephews and niece. During his escape with Lucienne she is shot but survives. He returns to base, and instead of being arrested for his misconduct, he is praised by their Commander and awarded with a medal due to his courage.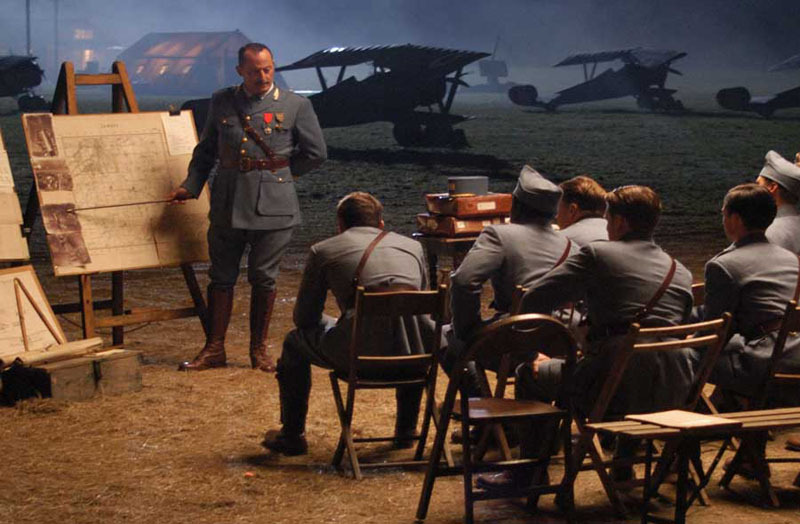 During an attack on a German Zeppelin, Porter dies after his plane is shot down by enemy pilots. Reed Cassidy is mortally wounded by the Black Falcon but, as his final act, destroys the Zeppelin by crashing into it. Rawlings reunites with Lucienne before she leaves for Paris. Before Rawlings leaves for another battle, his plane is presented with an eagle, Cassidy's former insignia, and Rawlings is promoted to Commander. Their next mission is to escort four bombers which are being sent to bomb the same supply depot from the first mission. Beagle joins the group, presenting a hook in place of his hand, and forgives Rawlings for amputating it. A few of the American pilots are killed, including Briggs Lowry, who shoots himself with his sidearm rather than be burned alive in his stricken plane. Nevertheless, the mission is a success and the German supply depot is bombed.
Upon returning from the bombing mission, Rawlings takes off again to exact revenge on the Black Falcon. He is followed soon after by Jensen, who has recovered from his shock and saves Rawlings. During the final battle, despite having jammed guns and being wounded, Rawlings evades his enemy and fatally shoots the Black Falcon with his pistol. Rawlings and three other pilots (Jensen, Skinner, and Beagle) survive the encounter and return to base.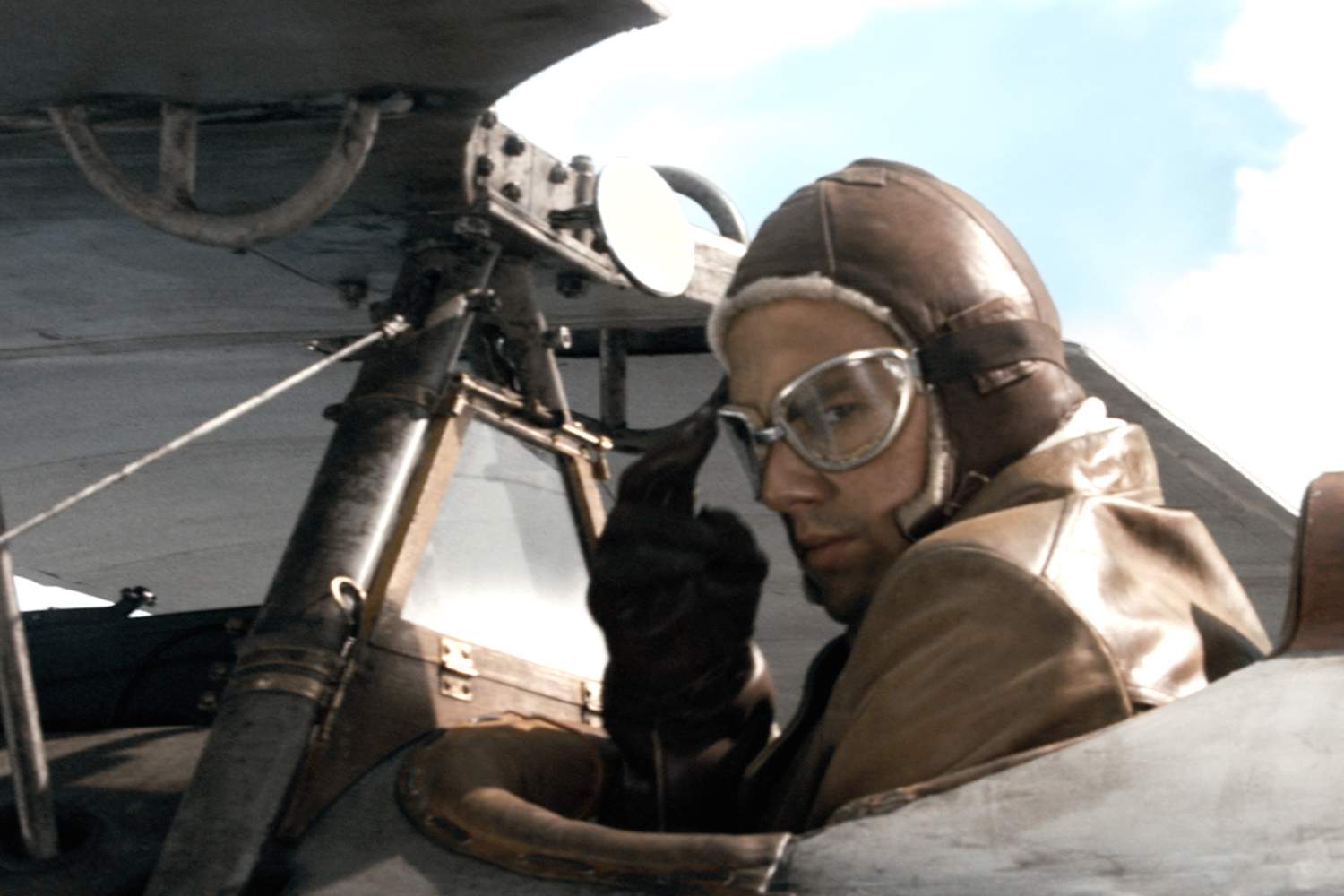 The closing credits tells the fate of the remaining group members. Jensen flew for the rest of the war and returned to Nebraska and received a hero's welcome. Skinner enlisted in the US Army but was kept from flying due to his race; he later joined the Airmail Service. Beagle married an Italian woman and started a flying circus. Rawlings never found Lucienne in Paris. Heartbroken, he built one of the largest ranches in Texas, but never flew again.