Mel Gibson's Conspiracy Theory tags Bin Laden code word GERONIMO! Skull & Bones stole Apache leaders skull. On Conspiracy Cafe it's Geronimo all the time.
Frequently movies have predictive programming elements. So not only is Geronimo Osama Bin Laden's code name the light on the cab illustrates its number 1S48. S is the 19th letter of the alphabet. So it tells us 119 48 or 911 in reverse. The 48 adds to 12 then to 3 adding power to the 911. It signifies the loss of three towers as well.
https://www.youtube.com/watch?v=nsV4vwNqjLo

FULL MOVIE:
Conspiracy Theory is a 1997 American action thriller film directed by Richard Donner.
The original screenplay by Brian Helgeland centers on an eccentric taxi driver (Mel Gibson) who believes many world events are triggered by government conspiracies, and the U.S. Justice Department attorney (Julia Roberts) who becomes involved in his life.
PLOT
Alice Sutton (Julia Roberts) is a lawyer working for the US government at the Justice Department. Jerry Fletcher (Mel Gibson), a conspiracy-theory obsessed New York City taxi driver, continually expounds his ideas to her. Alice humors him because he once saved her from a mugging, but does not know he has been spying on her at home. Her own obsession is to solve the mystery of her father's murder.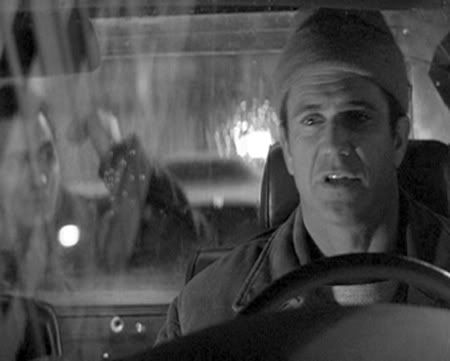 Seeing suspicious activity everywhere, Jerry identifies some men as CIA workers, follows them into a building, and is captured. He wakes up bound to a wheelchair. A doctor (Patrick Stewart) injects him with LSD, and interrogates him using torture. Jerry experiences terrifying hallucinations and flashbacks, panics, and manages to escape, incapacitating the doctor by biting his nose. Although injured, Jerry makes his way to Alice's office, eventually collapsing.
She visits him in the hospital. Handcuffed to the bed and forced into a drug-induced sleep, he pleads with her to switch his chart with that of a criminal in the next bed—or he will be dead by morning. Next day, when Alice visits, the criminal is dead, allegedly from a mysterious heart attack. The CIA, FBI and other agencies are there, led by a CIA psychiatrist, Dr. Jonas, with a bandaged nose. Meanwhile Jerry fakes a heart attack and escapes again, with Alice's help. In Jerry's hospital room, she meets an FBI agent named Lowry. While they are examining Jerry's personal items, the CIA arrive and confiscate everything. She declines Lowry's offer to work with her, and later finds Jerry hiding in her car. They go to Jerry's apartment where he tells her about the conspiracy newsletter he produces. Just when Alice has decided Jerry is crazy, a SWAT team breaks in. Jerry sets everything on fire and they leave by his secret trapdoor exit. In the room below, there is a large mural on the wall, which features both Alice on her horse and the triple smokestacks of a factory.
The pair go to Alice's apartment and he accidentally reveals he's been watching her through her window. Furious, she kicks him out. Outside, Jerry confronts Lowry and his partner staking out her place, and he warns them, at gunpoint, not to hurt her. He goes to a book store and, as he has compulsively done in the past, buys a copy of Catcher in the Rye, even though he's never read it. The electronic record of the purchase alerts agents to his location. Jerry sees their operatives rappelling down from black helicopters and hides in a theater, escaping by causing a panic.
Alice calls each person on the newsletter mail-list and finds that all have recently died except one. Jerry uses a ruse to get her out of the office, and then immobilizes the operatives watching her. During their escape, he tells her that he loves her, then flees on a subway train when she brushes off his feelings.
She goes to see the last surviving person on the subscription list, and finds it is Jonas. He explains that Jerry was brainwashed to become an assassin, and claims that Jerry killed her father. She agrees to help find Jerry.
Jerry sends Alice a message to meet him. They ditch the agents following them and he drives her to her father's private horse stables in Connecticut, but Alice secretly calls her office so that Jonas can track her. At the stables, Jerry remembers that he was sent to kill her father (a judge who was about to expose Jonas' operation) but found he could not. Instead, Jerry promised to watch over Alice before the judge was killed by another assassin. Jonas' men capture Jerry, and a sniper tries to get Alice, but she escapes.
Jonas tortures Jerry again. Meanwhile, Alice finds Lowry and forces him at gunpoint to admit that he is not FBI, but from a "secret agency that watches the other agencies" and has been using the unwitting Jerry to uncover and stop Jonas. Alice goes to the site of the smokestacks from Jerry's mural and sees a mental hospital next door. There she bribes an attendant to show her an unused wing, breaks in, and finds Jerry. As Jonas catches them, Lowry arrives with his men and attacks Jonas' men. Jerry attempts to drown Jonas, but is shot. Alice shoots Jonas dead. Alice tells Jerry she loves him before he is taken away in an ambulance.
Some time later, Alice visits Jerry's grave, leaving a pin he gave her upon it, before returning to horse riding. Jerry and Lowry are watching from a car. Jerry agrees not to contact her until all of Jonas' other subjects are caught, but she joyfully finds the pin attached to her saddle.