The M1 carbine (formally the United States Carbine, Caliber .30, M1) is a lightweight .30 caliber semi-automatic carbine that became a standard firearm for the U.S. military during World War II, the Korean War and the Vietnam War, and was produced in several variants. Easy-to-use, it was widely used by U.S. and foreign military, paramilitary and police forces, and has also been a popular civilian firearm.
In selective-fire versions capable of fully automatic firing, the carbine is designated the M2 carbine. The M3 carbine was an M2 with an active infrared scope system. Unlike conventional carbines, which are generally shorter-barreled versions of a longer parent rifle (like the earlier .30-40 U.S. Krag rifle and carbine and the later M16 rifle and M4 carbine), the M1 carbine has only one minor part in common with the unrelated larger M1 Garand, a short buttplate screw, and fires a different cartridge.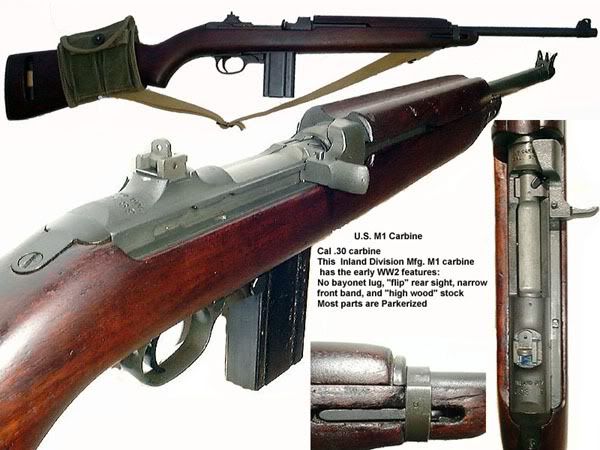 Prior to World War II, Army Ordnance received reports from various branches (infantry, armor, artillery, supply) that the full-size M1 rifle was unsuitable as issued for an increasing number of soldiers with specialized training (mortar crews, rangers, paratroopers, machine gun crews, radiomen, tankers, artillerymen, forward observers, signals troops, engineers, headquarters staff etc.) who did not use the service rifle as a primary arm. During prewar and early war field exercises, it was noticed that these troops, when issued the rifle, often found their individual weapon too heavy and cumbersome. In addition to impeding the soldier's mobility, a slung rifle would frequently catch on brush, bang the helmet, or tilt it over the eyes. Many soldiers found the rifle slid off the shoulder unless slung diagonally across the back, where it prevented the wearing of standard field packs and haversacks. Alternate weapons such as the M1911 pistol and M1917 revolver, while undeniably convenient, were often insufficiently accurate or powerful, while the Thompson submachine gun, though reliable, was heavy and limited in both practical accuracy and penetration at typical combat range.
Additionally, Germany's use of glider-borne and paratroop forces to infiltrate and attack strategic points behind the front lines generated a request for a compact infantry small arm to equip support units and line-of-communications troops who might find themselves engaged in combat without prior warning. U.S. Army Ordnance decided that a carbine would adequately fulfill all of these requirements, but specified that the new arm should add no more than five pounds to the existing equipment load. The requirement for the new firearm called for a compact, lightweight defensive weapon with an effective range of 300 yards, with greater range, firepower, and accuracy than the pistol, while weighing half as much as the Thompson submachine gun or M1 rifle. Parachutists were added to the list of intended users after Ordnance received a request for a lighter and more compact infantry arm for airborne forces, and a folding-stock (M1A1) version of the carbine was introduced in May 1942 to meet this requirements.
The .30 Carbine (7.62×33mm) is the cartridge used in the M1 Carbine introduced in the 1940s. It is a light rifle round designed to be fired from the M1 carbine's 18-inch (458 mm) barrel.