Highway Patrol is a syndicated action crime drama series produced from 1955 to 1959.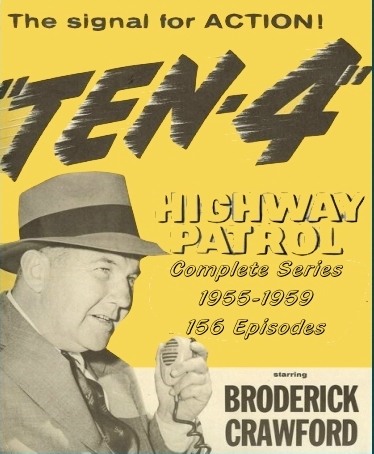 Overview
Highway Patrol stars Broderick Crawford as Dan Mathews, the gruff and dedicated head of a police force in an unidentified Western state. A signature shot of the series is fedora-wearing Mathews barking rapid-fire dialogue into a radio microphone as he leans against the door of his black and white patrol car. Mathews growls "21-50 to headquarters" and the invariable response is "Headquarters by" (as in, standing by).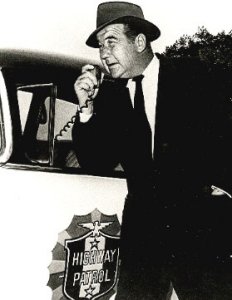 ZIV Television Productions was started by Frederick Ziv in the 1950s. In 1960 ZIV was acquired by United Artists, which later merged with MGM. ZIV was a major producer of 1950s TV series, including Bat Masterson, The Cisco Kid, Highway Patrol, Science Fiction Theater, Lock-Up and Sea Hunt. Highway Patrol was created by ZIV in response to California Highway Patrol (CHP) wanting to be featured in a TV series. However, because ZIV felt the show needed to have a broader police scope than the real CHP, the generic show name was adopted. In the four years of its run, Highway Patrol would feature many actors who would later become successful stars in their own right, among them Stuart Whitman, Clint Eastwood, Robert Conrad, Barbara Eden, and Leonard Nimoy.
Highway Patrol premiered October 3, 1955 with "Prison Break", an episode filmed April 11–13, 1955. Ziv Television Programs produced 156 episodes spanning four TV seasons, 1955–1959. Episodes are generally fast-paced—notable considering how a typical episode was filmed: two days on location and one day at the studio. The budget for an episode ranged from $20,000 to $25,000, somewhat higher when a Bell 47 helicopter was used. Producer Frederic W. Ziv said the show moved fast to match Broderick Crawford's acting pace. Ziv said Highway Patrol introduced quick cutting to television, which started a new trend.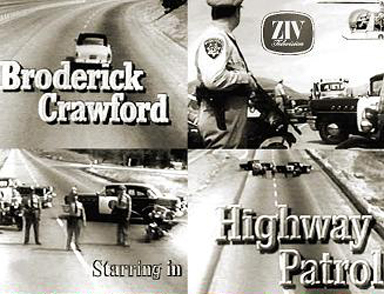 Highway Patrol is famous for its location shooting around the San Fernando Valley and Simi Valley, then mostly rural. Other notable Los Angeles area locations include Griffith Park, and Bronson Canyon just above Hollywood. Today the show provides a historic look at mid-1950s California, cars, fashion (men wear fedoras), and lifestyle. For example, train travel is a common show element; the second-season episode "Hired Killer" prominently features the Chatsworth, California train station in its opening scene.[1] The show also filmed at railroad stations at Glendale, California (identified by a large sign) and Santa Susana, California.
Storyline
Farmer Fred Carter's series of apparently random potshots at passing cars draws increasing attention from Dan Mathews and his officers. When Herb Dunlap is killed by one of the shots, investigation reveals that the incident was murder rather than random vandalism. Dan learns that recently released ex-convict Jim Purcell had a grudge against the victim. Purcell is initially a strong suspect, but Dan finds that much of the evidence against him was "planted" by someone else. Dan turns his suspicions to Fred Carter when he learns that Carter also had a grudge against Dunlap. Carter attempts to flee when confronted with the evidence, leading to a gun battle with Dan and his officers in the heavily wooded terrain. Written by Sam Spear
| | |
| --- | --- |
| Posted by George Freund on January 26, 2015 at 9:47 PM | 6699 Views |